Foreword by Dr. Mike
When I first got this surprise message from Alfie Grace, a fellow freelancer specializing in data science, I loved his idea from the start! I thought that not only is this a good idea, but this guy clearly gets how to connect with people on LinkedIn!
Particularly that week, my LinkedIn message inbox was full of idiotic sales pitches, petitions of all kinds, and requests to do charity for various individuals, so Alfie's message was like a bolt of bright lightning coming from a blue sky setting me on fire.
This was an absolutely brilliant idea and the timing could not have been any better. So we went and just did it. A year's worth of Freelancer Friday polls that I've made on LinkedIn is finally making sense!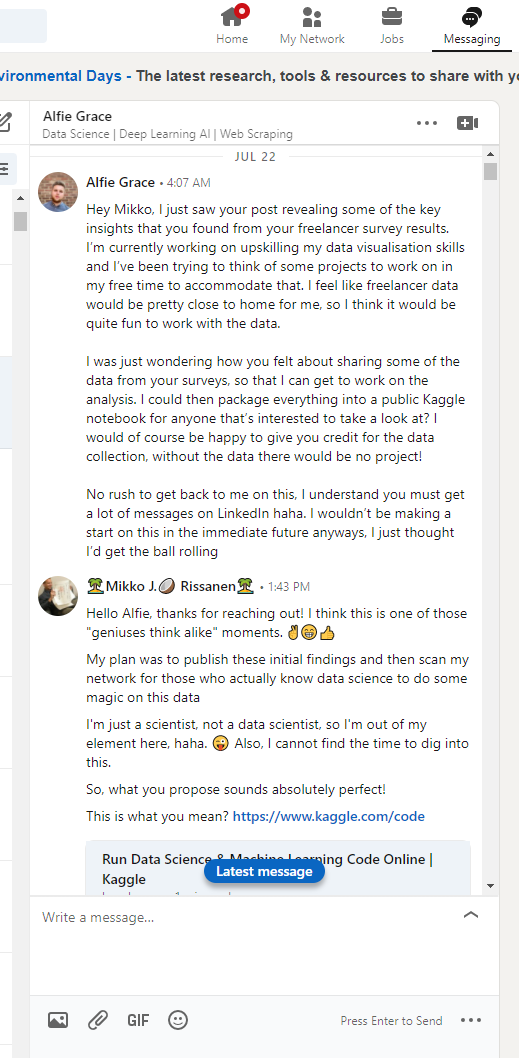 Alfie's introductory message that all freelancers should take as an example for how to do it right. Doing something cool and mutually beneficial together makes a perfect connection with a stranger online.
In the below, I've selected those parts of the analysis I found most interesting, but there is a lot more! The full story and analysis (with a lot better title) in Alfie's own words is available here: Freelancer Survey Analysis – From Clients to Coconuts. Be sure to check out how other freelancers run their businesses!
(All images are courtesy of Alfie Grace.)
Executive summary by Alfie Grace
As a freelance data scientist, I thought it would be cool to build upon Mikko's work, compiling the survey results here on Kaggle where others can dissect the data as they see fit. I also thought that it may be helpful to visualize the data so that anyone interested can quickly analyze the data and find their own insights.
This data gives a window into the life of a freelancer. As a result, it is primarily aimed at anyone currently working as a freelancer or interested in becoming one. If you're not in that boat but would still like to dig into the findings, please feel free to continue! If you'd like to discuss my conclusions further or offer any suggestions/insights of your own, please feel free to drop me a message here on LinkedIn.
The questions have been split into 6 core themes:
The Clients – Choosing a Boss
The Journey – From Beginner to Veteran
The Marketing – Generating Leads for a Freelance Business
The Execution – From Leads to Happy Clients
The Finances – Picking the Right Price
The Fun Stuff – Coconuts, Lifestyle and Everything Else
The Clients – Choosing a Boss
Arguably, the most essential part of freelancing is the clients. It doesn't matter how good your skills are without someone who will pay you to use them.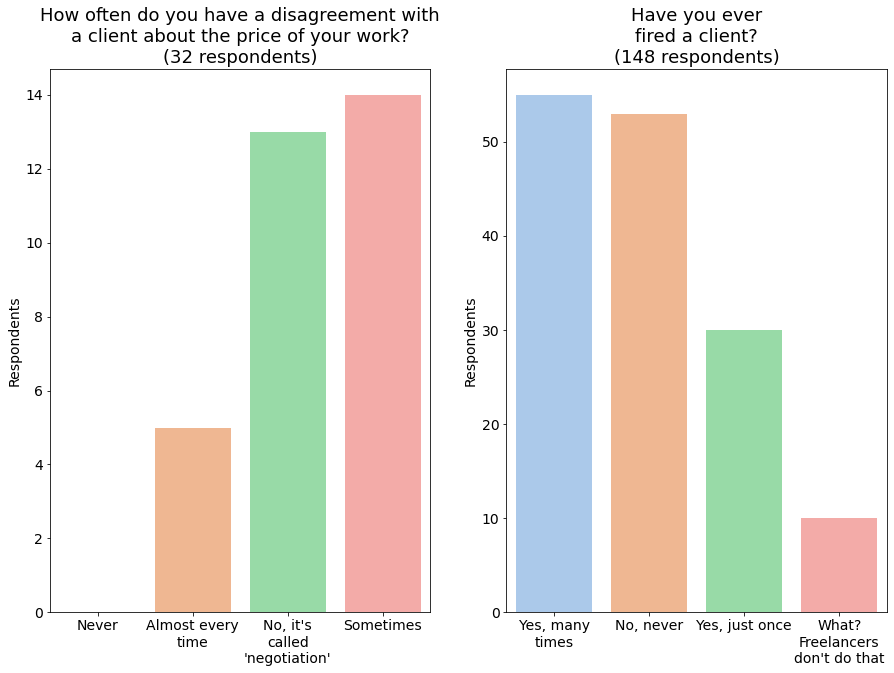 Disagreements with clients are common.
It makes sense that an overwhelming majority of the respondents have selected 2 to 3 clients in parallel as their preferred working style. Freelancing can be a risky business, but you reduce the damage that losing a single client can have on your finances by diversifying your income sources.
Unfortunately, contracts reach a natural end all the time. With multiple clients part-time, you only need to replace the income from one client when this happens, resulting in far fewer sleepless nights!
On the other hand, it's surprising that 14% of the respondents work with 6 clients or more. The most amount of clients I've ever worked with concurrently is four and I found that a lot of juggling was involved to ensure I was keeping them all happy. So 6 seems like it would definitely be a struggle, although I suppose it also depends on what kind of services you're offering.
Don't quote me on this, but the 34/30/22/14 split on client types could be related to the experience distribution of the freelancers surveyed. Generally speaking, only the most experienced freelancers have access to those big-ticket corporate clients that pay by the bucketload, whereas everyone has access to individual clients.
The Journey – From Beginner to Veteran
Every business needs a plan to be successful; this includes freelance businesses too! One particular area which should be near the forefront of every freelancer's business plan is growth. If you're not landing those big-ticket clients just yet, that's ok, but you should have a roadmap for how to get there. Also, even if you'd like to stay on top where you already are, you still need a growth plan to keep on top of the latest technologies.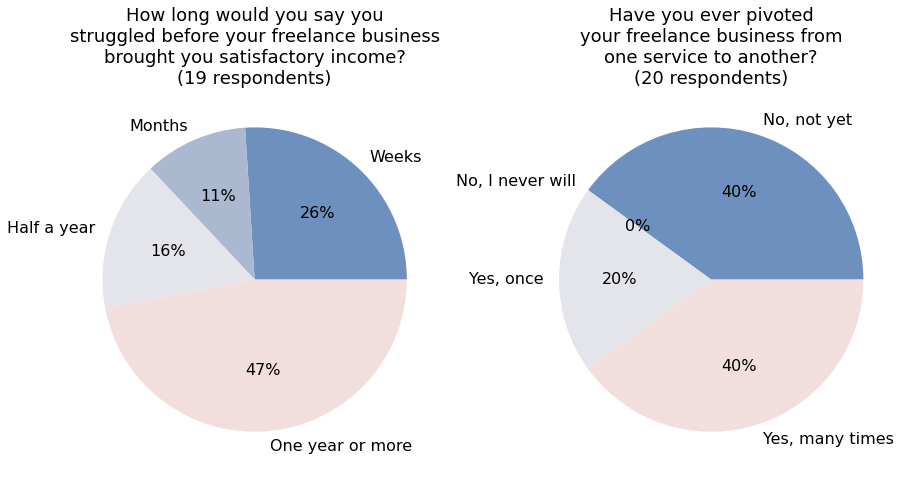 About starting and pivoting.
Freelancing is the same as most things in life because what you get out of it is equivalent to what you put in. As a result, the amount of time it takes to start bringing in an adequate income is directly related to how much hard work you're willing to put into building your reputation and your portfolio.
The Marketing – Generating Leads for a Freelance Business
You could be the most talented data analyst, graphic designer or copywriter out there, but it doesn't matter if you can't land a gig. Marketing is one of the most critical areas of freelancing, so read on to see what some of our respondents had to say about how they go about hunting for leads.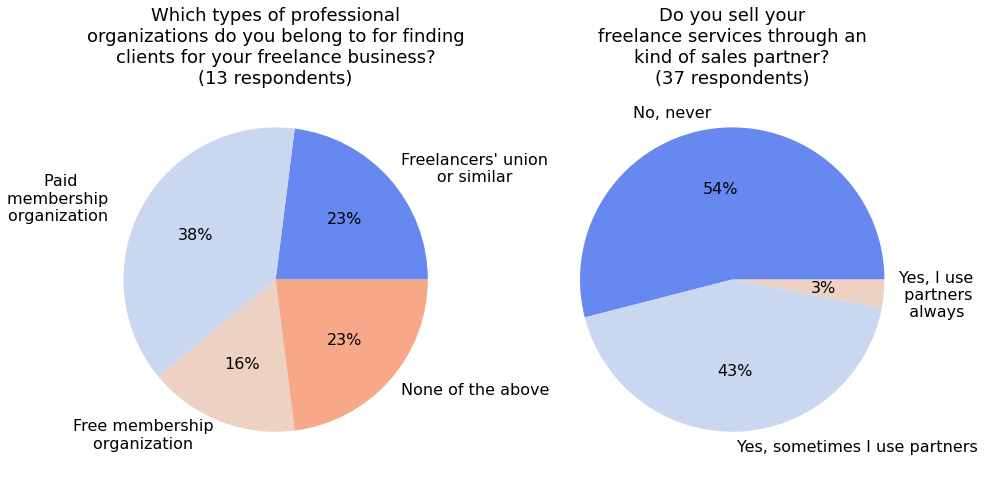 Marketing and sales channels are always interesting aspects of any business.
Personally, I've never had to join any organizations or work with sales partners to help get more business. That being said, I know that many people struggle with finding clients at first, so I can see why they'd perhaps try a different approach at times.
The Execution – From Leads to Happy Clients
This section is dedicated to the day-to-day of freelancer life, looking at some of their key challenges and how freelancers like to work.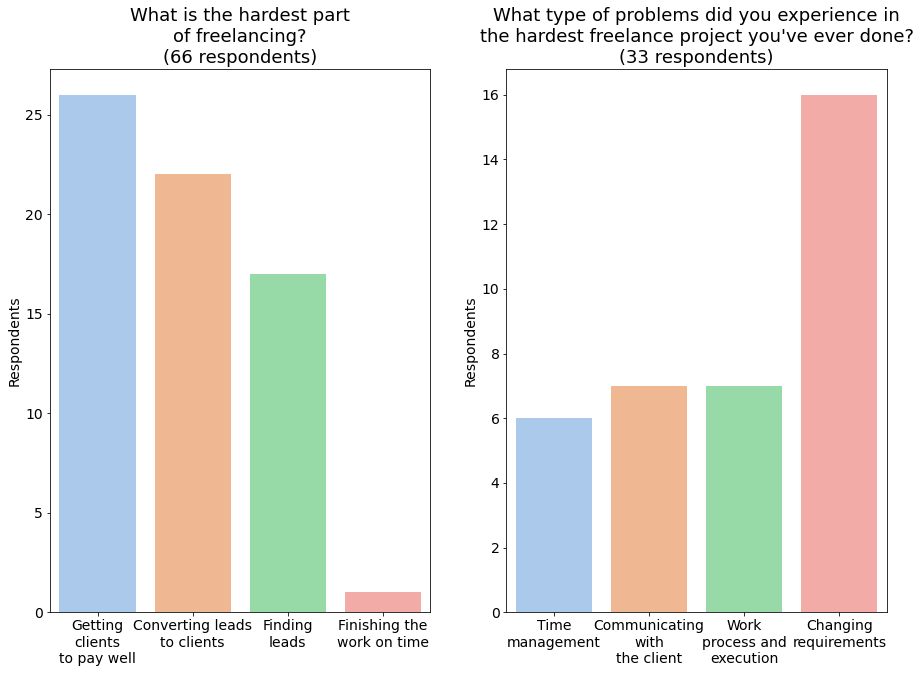 Hardest parts and problems.
Interestingly, only a slim majority of respondents thank that actually doing the work is the easy part; maybe looking for more challenging gigs will result in clients that pay better!
Changing requirements is definitely a struggle and it's easy to see why a lot of the freelancers surveyed would agree. There's not much that's more demoralizing than when you're ready to wrap up on a project only for the client to change their expectations at the last minute.
The Finances – Picking the Right Price
Clients, marketing and strategy all lead towards one thing – making money! As a result, it's essential to ensure that your freelance business is geared towards making all the hard work worth your while.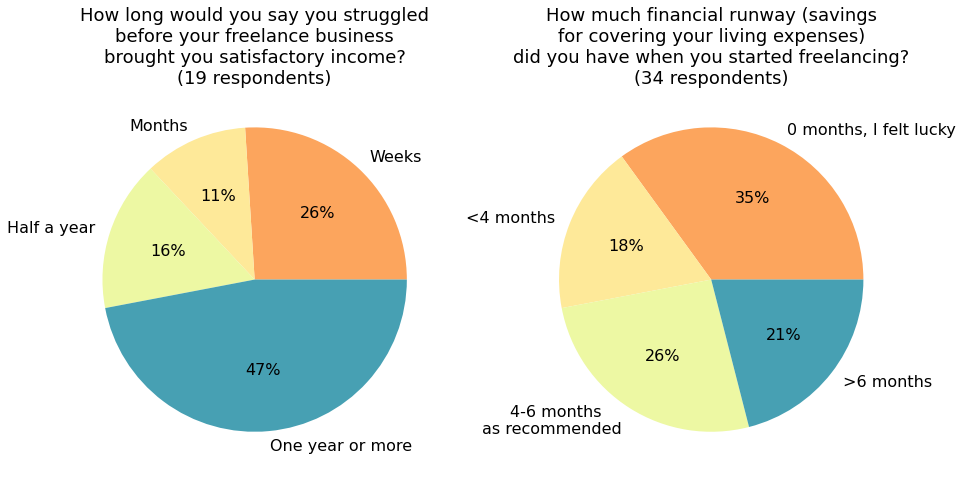 The "learning period" and the financial runway.
An alerting number of 35% of freelancers didn't have any savings to cover their living expenses when they started freelancing! But fortunately, 47% say they had savings enough for the recommended period of at least 4-6 months or even more. Every business needs initial capital. In the case of freelance businesses, it can be very small, though.
The Fun Stuff – Coconuts, Lifestyle and Everything Else
Many of Mikko's polls seem to have been designed just for keeping up the spirit. Somehow, all of them seem to involve coconuts. 🙂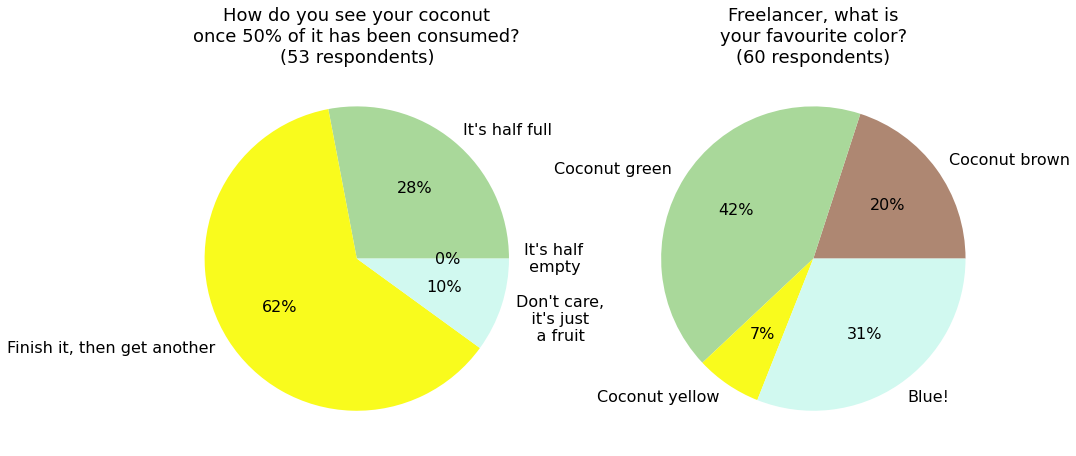 Keeping up the spirit with coconuts and ambiguous Monty Python references.
Freelancing isn't for everyone, so a healthy sense of humor is needed. It's a lot of work and you need to be good at motivating yourself. As a freelancer, there's no boss guiding you to make sure you're performing at your best; something which some people need.
However, one of the best things about freelancing is that even though it's hard work, you're working hard for yourself. When you couple this with doing something you love (be it coconuts or even something else!), it can be easy to feel like you aren't doing any work at all.