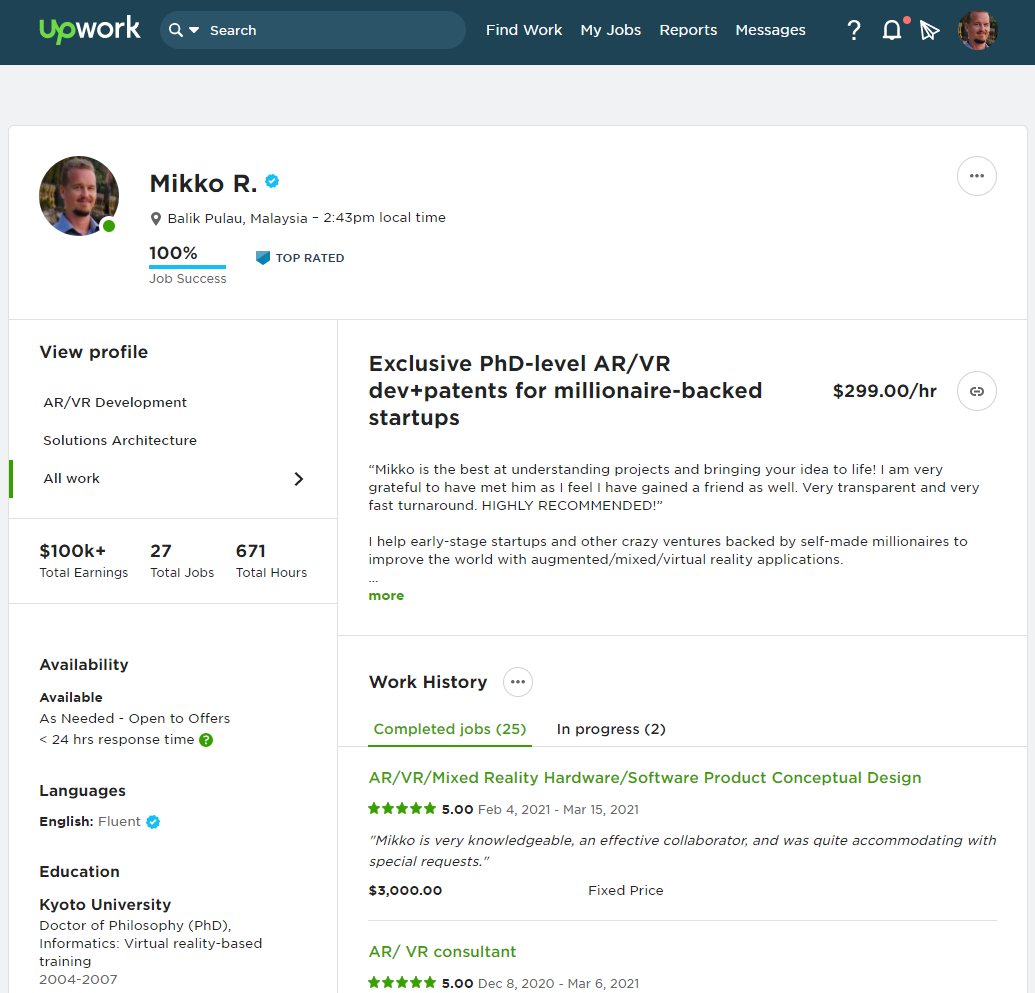 I topped the game on Upwork. So can you! Freelancing gets nicely relaxing and very efficient when you can let a good high-end platform do your job hunt for you at a $0 marketing budget. Skip the endless proposal battles and learn how to earn 1000 USD per day — or even more. My Upwork story shows you how!
After I started my first project on Elance, the predecessor of Upwork, I did development projects exclusively on just one device that I programmed: Microsoft Kinect. I picked my niche right from the beginning and faced little if any competition. I got all the good gigs early on. My earnings accumulated quickly which made my profile easily visible.
I've been Top Rated from Day 1 of Upwork in 2015 and bombarded with invitations from high-end clients ever since. That allows me to select between the best couple of gigs that I get without sending any proposals.
The platform has evolved over the years, but the milestones are still the same. Once you reach about $10,000 of total earnings, you'll be offered the TOP RATED status. Then things get a lot easier. But to get there is hard work, of course.
My Upwork story: How to earn 1000 USD per day
The full story is available here: How to Start Freelancing and Make It to the Global Top – My First Year on Upwork.
Unfortunately, getting started on Upwork is harder and harder every year, thanks to remote freelancing getting more popular in every country. Almost anything you imagine to offer is already being offered by more experienced freelancers with perfect portfolios and big earnings backing them up. Your sign-up application can even be rejected in case you're trying to enter a saturated market.
The key is to find a good niche. You must find yours!
I have changed my niche on Upwork many times over. 😉
Originally, I started with Microsoft Kinect-based Augmented Reality (AR) applications, then went back to my Ph.D. topic of VR training simulators for a couple of years, and now focusing on consulting & patenting for well-funded startups. The current version of my profile on Upwork is still active and very much alive and kicking! I am free to choose my clients from a continuous stream of high-quality invitations and only focus on the most critical projects.
When you know how to navigate the market, the mechanisms of the freelance site of your choice, and you know how to make the shift fluently without causing an unexpected interruption, you can top the game every single time.
The good thing is that your track record stays online for life! Use it to your benefit!
Examples from the CoachLancer community
Here's are some exemplary freelancers from the CoachLancer community:
Tomasz Kirsz, a very experienced VR developer and the founder of  Cherry Engine, started on Upwork in April 2020. In May, he was at full speed doing a great software development project worth thousands. Soon after, he became a TOP RATED freelancer on Upwork in the shortest calendar time I have ever managed to witness!
Mart Willy Buriol, a talented generalist designer, got his Upwork profile TOP RATED in about 6 months by doing great projects for mainly North American clients. A talented Philippino in his twenties is now earning about 5 times more compared to his corporate peers while not even breaking a sweat.
And there are many other successful freelancers in the community… So, dig in! 😉
How to get started?
Take a look at the recommended order of going through the content which includes guides for:
Create a profile that looks perfect to your carefully chosen clientele
Writing Upwork proposals that actually win jobs
Communicate with your clients effectively
Raise your rates
… and so on.
CoachLancer makes your dream of freelancing a reality!