Despite the slight (or rather complete!) change in the title, this article is the last part of my series The Strangest Invitations I Ever Got via Online Freelancing Sites, Part 3: The Scammer. (Please take a look at the previous articles starting from the beginning.) I changed the title to make sure every starting freelancer would notice this part because they should.
I encountered something that is quite alerting and I can imagine new freelancers might have trouble recognizing an obvious scam, once you think of it just a little. Do not jump into the kind of project that I'm describing here! Be sure you know how to avoid getting scammed on a freelance site!
Nearly scammed on a freelance site
Here's the story. One Friday, I thought I'd sit down and write this article series. There are a lot of strange things in my chat logs of various freelancing sites that I had gotten over the years. It doesn't make much sense to list all of them here, so I ended up introducing just the archetypical ones. First I listed some of the funny ones that I still remembered.
In the second round, I listed the shady project invitations by going through the old chat logs more carefully. During the process, I made a revelation that I just had to share. I couldn't believe my eyes and the fact that I didn't notice this before!
This is the first thing I re-discovered from my logs. The project invitation is one of the quickest ever discussions which also had all the details in place. The project title matched my freelancer profile's title almost word to word, so of course, I had to reply.
However, the description contained awfully many technical buzzwords, like in a job vacancy announcement written by HR staff who doesn't know what the keywords actually mean. Of course, there were some promises about long-term aspects if "the right candidate" is found. They seem to be seeking a true expert. From the description, I guessed it is coming from a startup company in their scale-up phase.
Thank you for your invitation. Your project sounds interesting and I'd like to hear more to determine what of many things I could be doing for you. I've worked the last 5 years almost exclusively on Kinect applications, now turning into also the latest Orbbec sensors. I've made sports products as a startup CTO, and my portfolio is full of smaller scale Kinect game and marketing apps, many award-winning. Before Kinect came about, I had done post-graduate degrees on medical training simulation (Ph.D.) and collaborative virtual environments (M.Sc.). Feel free to take a look at: improventions.com. Hope to hear from you soon.
Thank you for meeting with us to present your proposal for our company's recruitment plan. We found your bid well-prepared and considerably higher than the competition's. Actually, we are looking for experienced developers with Kinect Fusion and C# .NET technology stack. Actually, we got a client contract and want to consider your candidacy to work on this project as we found your experience considerably higher than other developers. We need at least 2 high creative, and intelligently curious developers to help us develop our software and products to lead an era of design-led innovation for our business clients. We are looking for someone who thrives on new technology, can think both creatively and independently. Since we have hired people in the past that didn't have the required skills, so we need first verify your technical skills and domain-specific knowledge indispensable to undertake work in our team room. [The rest is cut, this was just the first half of it.]
The message was so long I stopped reading every word at this point. Quick skimming led me to the conclusion that this is something for a company that had just established a job for the first HR person. They want some test application to be developed, completed or maybe there is a tough bug that needs to be fixed, and I would need to complete that little job to continue discussions on a possible long-term contract. Yeah, well, some clients ask such small things to be done first.
But then I realized what it actually was: basically, it is the same as asking, "could you please complete this little project for us, without us paying you anything for it. We reserve the right to use it as we see fit and also the right of not contacting you ever again". Alright! I did bother to reply, though.
Hi [whatever name I see in the chat box], I hope this link helps in your situation: [link to that freelance site's official guidance on how to do a long-term hire by paying for a test project first]
No reply. I don't mind, at least I tried to help improve the world again just a tiny bit. I didn't think of it anymore then, and now writing this, I just listed this as an example of a potential scam.
Now: the bomb.
The real scam!
I traveled further back in time reading my old chat logs. I noticed another all too similar case from the previous year. At a closer look, I found the above project even more disturbing. The above one is the newer one. The below one happened half a year earlier, and it had an even more vague job scope that mentions all kinds of buzzwords including user experience and innovation besides the technical keywords.
Read on. The discussion starts after the mandatory invitation messages.
Which application domains are you involved in? I'm most familiar with the medical domain (Ph.D. in medical VR) and industrial automation (ex-lead of ABB's user interface research team based in Västerås), besides the most common domain of Kinect applications, i.e. entertainment. If you're available on Skype, we could discuss this a bit further.
Hello Mike, thank you for meeting with us to present your proposal for our company's recruitment plan. We found your bid well-prepared and considerably higher than the competition's. We want to build a long term relationship with various project along the way. Since we have hired people in the past that didn't have the required skills you need to do a paid test that we will evaluate and base our recruit on. Except getting the chance to work with us for a long time, we will also pay the "winner" $200. You have basically show us that you are able to [do something very specific] with Kinect with available algorithms from [name of some other software bundle]. Below you find the code and [some details of what to do with it]: [Dropbox link to download that software and sample data]. If you have the skills, the test will not take that long time to do. Get in touch with me if you have any questions or concerns. Thank you. Kind regards!
Back then I did not get any chance to reply to this one because the client profile was removed by the site's administrator.
It had to be the same bunch of guys! I couldn't believe my eyes when I realized I had never seen this obvious connection when replying to those invitations separately. Yet, when you put these side by side, you just cannot miss the similarity, more than three sentences were identical.
You cannot miss the fact that the invitations came from neighboring countries (not the same). You cannot miss the identical structure of what they ask for. Only, the newer one is a more elaborate scam! Six months apart in calendar time. You can always see some names in the client's profile.
The older one looked like coming from a non-existing person (seriously, google gave zero hits with that name) from some meditation center, which is a very unlikely type of company to hire Kinect experts. The newer one looks like it's coming from a senior freelancer specializing in Kinect application development who has a page in LinkedIn, but nothing else in the entirety of the interwebs.
Both were fake client profiles.
Once I realized this I had to congratulate myself for being an old pro already, at the time of the first invitation. The older one mentions a Kinect job that needs a job done and the winner gets a prize. The other one doesn't offer anything, it's just a test you'd need to do for free. Intuitively, I had avoided both.
This is crazy!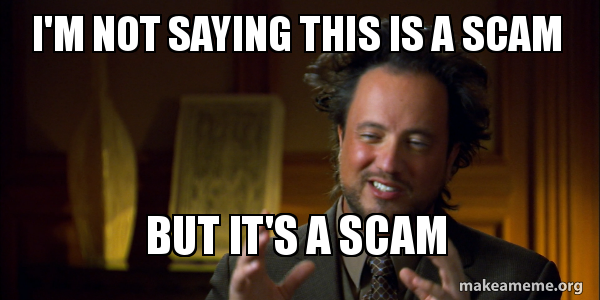 If the deal offered by your client looks like something you might need to do for free to prove yourself, it is probably a scam! Beware. It happens.
Those freelance sites do attract scammers by default, after all, some shady businessmen might think "hey it's just business", but getting honest freelancers to work for you for free is just unethical. Most likely, this is the work of a single person posing first as a company and then as a freelancer trying to get projects done by scamming honest freelancers.
The older one was the first-ever scam I had encountered and I had no clear idea what to do about it, so that is why I didn't reply immediately. Then the profile was removed by the site's admins. Both profiles were removed by the admin quickly after sending the invitations. Good thing too. I suppose they had sent the same message to anyone matching their keyword.
The newer one was too obvious and because of the length, it looked too strange already. In one sense they improved the approach, in another, it got worse. Anyway, busted!
Now, and finally: the real bomb.
After publishing this story online, a couple of my freelance friends mentioned they got identical messages. In 2019! That means scammers are still out there, preying for inexperienced freelance developers to get some free work done. Fortunately, though, their approach hasn't shown much improvement since the newer example I showed here. But still…
New online freelancers, beware. The freelance sites administration should be able to sort these things out if you just contact them. There are some sites where the administration is mostly automated or non-existing. On those sites, you're on your own, unfortunately. There are shady things going on and some of the sites do have some counter-measures against these kinds of things.
Any "test project" that doesn't pay anything but tries to assess your "expert skills" should make alarm bells ring in your mind. Be careful. The right way for the clients to test freelancers is to run a small well-defined paid project. They can be around $200 projects, no problem. Finish the small one well and get paid. If you're a good match, they will ask for a bigger project. It's not ok to ask freelancers to solve a problem and keep the results without any compensation.
Feel free to ping me for scam filtering support via LinkedIn.