I'm a man of many hats. (Saying that always makes me think of a doctoral hat, which is part of the academic tradition in Finland — which I never got because I studied in Japan.) I have a good story to tell about my many hats and almost mixing up which hat I needed to wear at what meeting. This is my experience of one month's worth of traveling to satisfy all my clients (old and new).
The whole thing turned out to be one of the busiest times I've ever had since starting my freelance business in 2014. It's not meant to be repeated, but to be shared here to help others avoid building similar schedule bottlenecks by saying "no" at some point… and then I learned how to phase out and manage multiple freelance projects effectively.
My hats
To give an idea of all the hats I've had, here are a few things for which people have hired me as a freelancer specializing in augmented/mixed/virtual reality technologies:
Software developer (DEV): Designing, programming, and testing of software.
Technical consultant (CON): Recommending best methods and approaches for developing complex systems, which sometimes requires running experiments or making a tech comparison or evaluation study.
Inventor (INV): Coming up with novel solutions to a technical problem, which often leads to submission of a patent application.
Consulting professor (PROF): Helping Ph.D. students in their multi-year journey of becoming a scientist as an external adviser (other academic stuff, such as peer-reviewing and conference organization, I might do just for fun, but only in small doses.)
Startup co-founder (CO-F): Taking the role of CTO to get a new company's software development under control in terms of strategy, leadership, and execution in a way that supports business development in the optimal manner (usually the Lean Startup approach).
CTO-as-a-service (CTO): Running CTO duties in a well-packaged and well-defined manner either for 1) startups, 2) companies that do not yet have software development of their own, or 3) companies facing a shortage of a suitable CTO for a short time.
I have a few more hats in mind for the future, which are all different from but still related to these ones.
Additionally, (with the non-existent free time I have) I try to launch my own initiates such as this blog site:
Product/service developer (PROD): Developing software of my own for a wider audience than one client project.
Small business owner (BIZ): Doing what every business owner has to do, i.e., manage everything about everything, find new customers (or in my case, try to get rid of the less interesting ones), take care of compliance and tax duties, and make the business work, since nobody else is going to do it for you.
There are perhaps a few more hats, depending on how you count them. But I am wearing at least those eight.
Now for the story.
A month of hat juggling
I had an entire month of wearing pretty much all my hats, which turned out to be very interesting, highly educational, and great for business — but terribly exhausting. Please note each day's tags that match the abbreviations of the hats listed above.
Day 1, Friday (DEV): I was preparing for a trip of a few days and mainly setting things up for that. I would double-check and confirm the meeting times and logistics with my clients over the next couple of days. The morning was spent on testing a system that I had made for my client and would deliver tomorrow.
I took a late afternoon flight to Kuala Lumpur (henceforth referred to as KL) and checked in at a hotel of strategic position. Mainly, I was thinking about the questions I would have to ask my client tomorrow and what probable solutions I could suggest.
Day 2, Saturday (PROF): I made a "house call" to my client, a foreign Ph.D. student in a top university in KL. We had two parts to cover. First, there were performance issues in the system I had developed when it ran on the computer that needed to be used in his experiment. If it didn't work, his entire studies were in jeopardy. The issue turned out to be hardware-related, but there was no budget left for getting a new laptop, so all I could offer was a good workaround.
The second part was far more fun. We went through all the plans for getting his thesis wrapped up, starting backward from the defense and thesis submission dates and going up to the weeks that the experiment needed to happen so there would still be enough time for analyzing the results and writing a paper, as well as the thesis.
Day 3, Sunday (INV): I was invited to an interesting brainstorming session. The invitation came out of the blue, and I knew very little about my client or the exact aim of the meeting. It turned out that my client worked as a rare kind of international consultant for large corporations and was currently doing a tour of sorts around South-East Asia.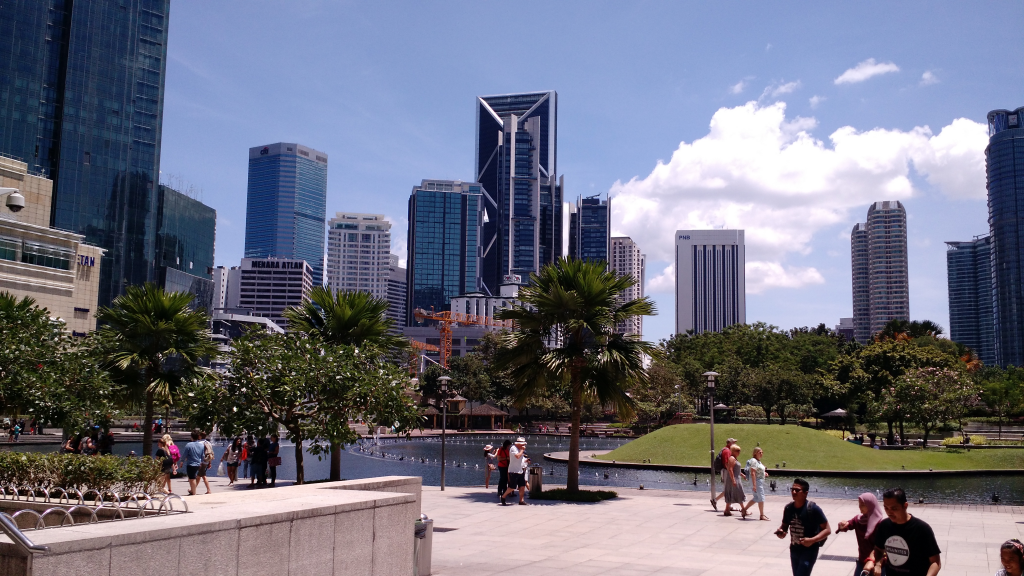 Kuala Lumpur City Centre is one of the best places for meetings. This spot is right below the Petronas Twin Towers, which has plenty of nice coffee shops and five-star hotel lobbies nearby — basically, multiple options for business meeting venues.
He had revolutionary ideas in mind, but due to not having any technical background, it had turned out to be too difficult to devise a plan and get started on the right path. My experience in the corporate world and innovation centers came in handy, and we spent the afternoon coming up with a high-level plan.
The low-level plan would be Phase 2. But that phase would be rather difficult, and we had a few concerns about our collaboration mode. I'd need information from people whom I would not be able to meet directly in person.
Day 3, Monday (CON): I had a noon flight to Singapore, so there was nothing much to do in the morning other than getting to the airport early. Once in Singapore, I checked in at my hotel. I was to meet a new client for the first time tomorrow, a startup co-founder. I revised my portfolio slides to fit short and long versions so I could be flexible depending on the time we would have.
I also did more research on what the startup had been doing lately. I even managed to pick up something from a shop that my wife was hoping that I would buy (this was a constant side mission of mine on these trips).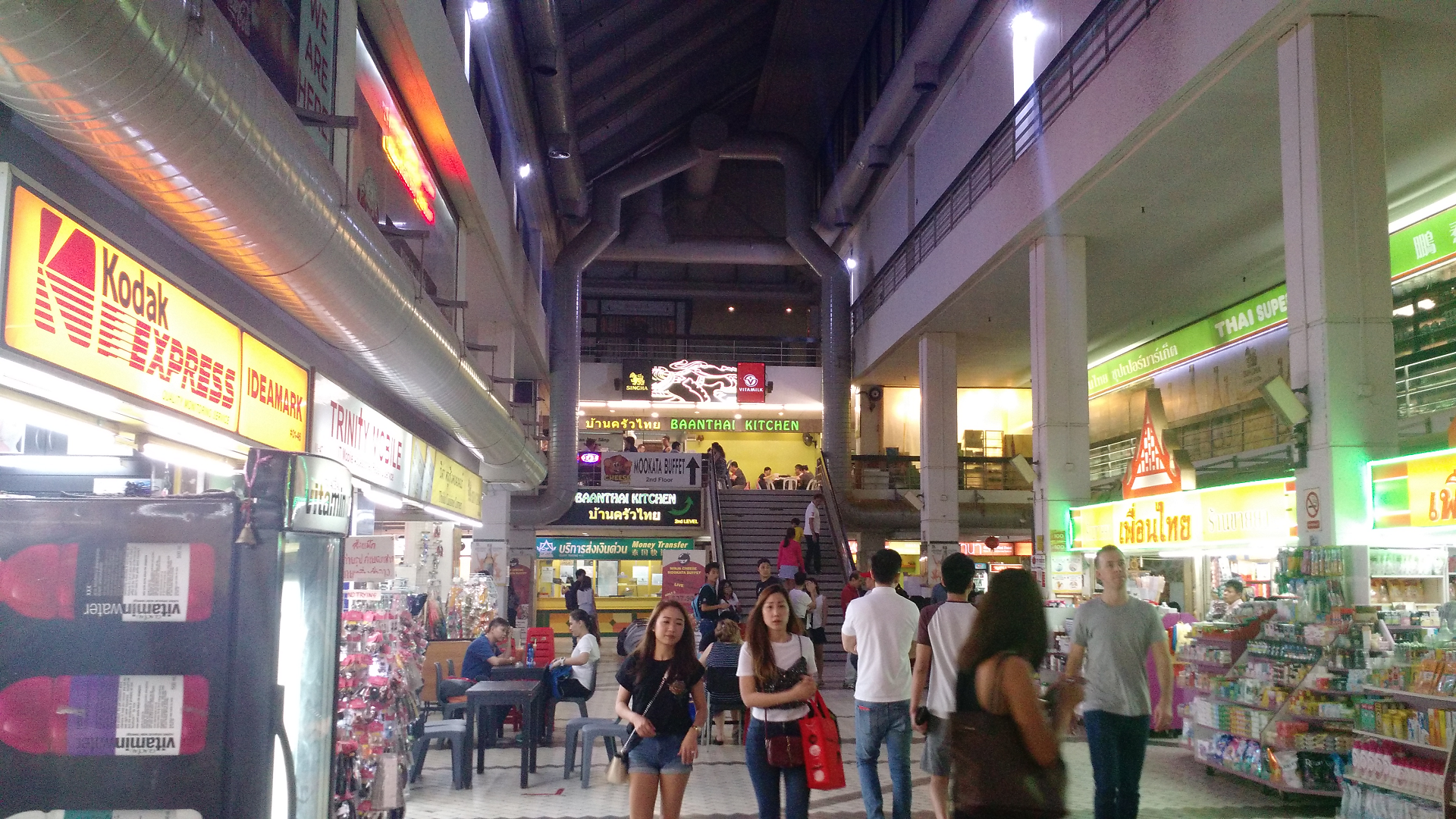 Singapore's Chinatown is a great place to find little things for a good price.
Day 4, Tuesday (CON, BIZ): Today was the first time meeting with this startup client. We sat in a coffee shop for about 90 minutes, which is typically long enough to know if there is potential for collaboration or not. I went through my portfolio (the short one) for the parts that were similar to my client's business, and they explained the challenges they were facing. Some were organizational, some were strategic, and some were just technical.
There was definitely something I could do, so we set up a follow-up meeting for tomorrow with the rest of the key members of the company to see the demo of their product. In the evening, I visited a few business networking events that Singapore is famous for. Unfortunately, this turned out to be rather uninteresting and I was a bit blunt toward new potential customers, even though I knew I shouldn't have been. There were just too many of them!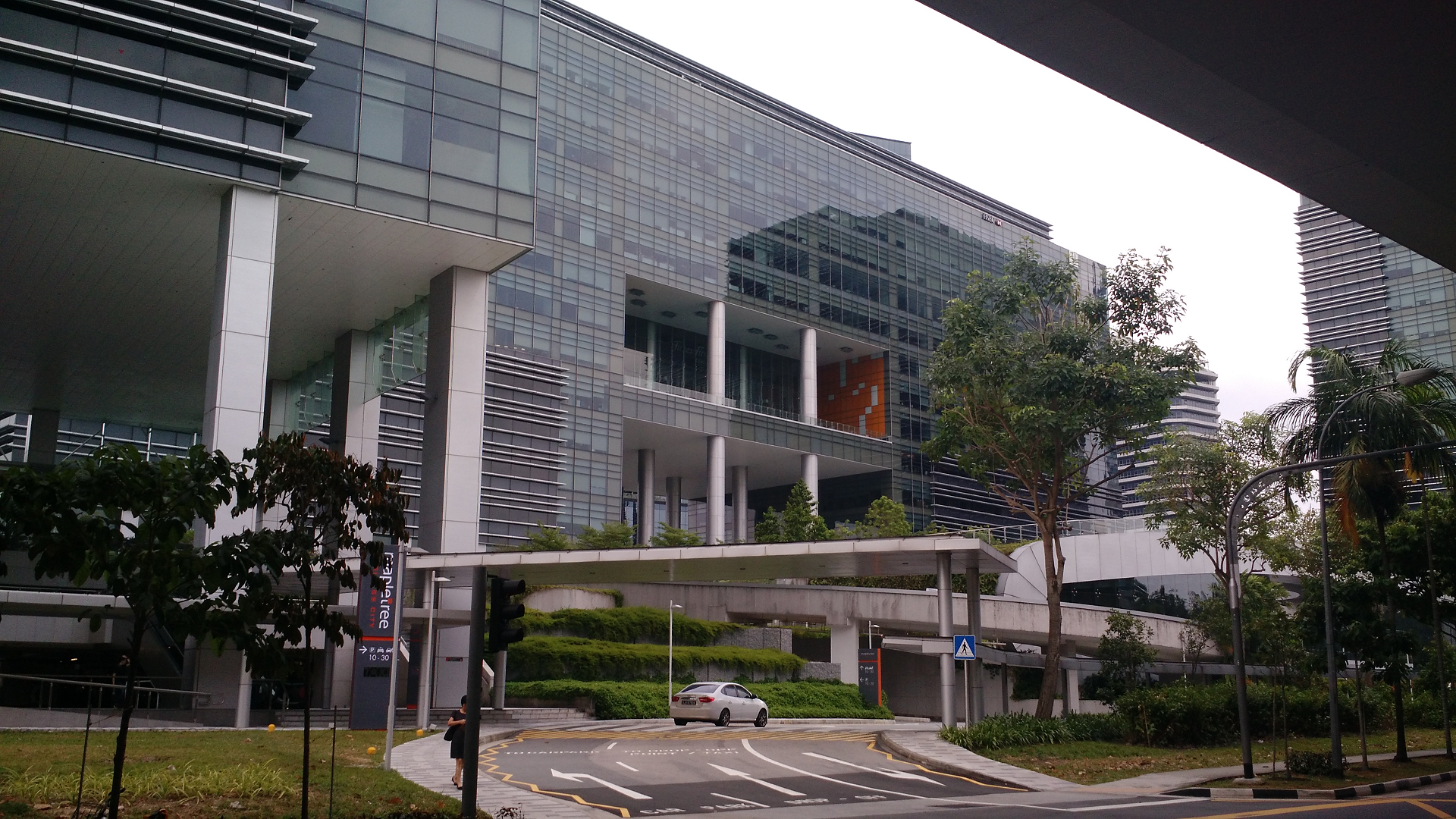 In Singapore, all major companies have their offices in representative places. This is Mapletree Business City, where big names such as Google, Samsung, Toshiba, and SAP, among others, are located.
Day 5, Wednesday (CON, BIZ): The meeting with the previous client didn't work out due to too many scheduling overlaps on their side and the fact that they seemed to have rather dynamic plans in general. So, I activated my Plan B and went to another networking session.
Unfortunately, when I got to the meeting venue, I realized what the problems and challenges of my two new clients were and what they meant in the grand scheme of things, so I started thinking about what support I could provide. Once I started seeing the light at the end of the tunnel, I couldn't really focus on the session, as it felt completely secondary.
I started bumping into people and getting stuck introducing myself because my thoughts were quite messed up. It was best to leave early to let the thought process continue, and I got back to the airport super early for an afternoon flight back to Penang.
Day 6, Thursday (BIZ): Back home, I started looking at the schedule. So many things had changed during the trip, I had to make sure earlier engagements didn't destroy the new ones. I had worked out most of this yesterday, but I still had to take care of the related communications. Also, I now had a way forward with both new clients and wanted to sketch them up for future meetings.
This week was a school holiday in Malaysia (and I had skipped the previous weekend), so I spent most of the day with my family. Then I realized that the item I had bought for my wife was missing. I must have left it in the hotel when packing because I had been thinking of other things!
Day 7, Friday (CON): A holiday should have meant no work, but I couldn't help thinking about those two clients. The problems they both wanted to solve were very interesting, and I just needed to see a good way forward. In the evening, my Singapore startup client called.
We agreed on the collaboration mode that I had suggested: pure consultancy work without any software development. We agreed to meet next Friday to go through their demo and start taking the next steps. That meant going back to Singapore.
Day 8, Saturday (CO-F): I thought I would finish the week with honor and do some shopping with my family. Part of that worked, at least. But I got pinged for a Skype call with yet another new client: a couple of cool guys with a feasible plan, looking for high-level support. It sounded like the first step toward becoming an integral part of the team from the beginning, either as a co-founder or adviser.
This would be a long-term startup involvement if it worked out, and for such things, it is better to meet live. These guys were Europe-based in principle, but some of them were currently on a holiday in Bali. Well, Bali wasn't so far away, so it would be feasible — next week! So, I would be going to Singapore and Bali within four days' notice.
Day 9, Sunday (BIZ): I stopped thinking about what other people do on Sundays a long time ago. If I'm not doing an intense hike in the jungle or have a plan for a little trip with my family, it is usually accounting, reading tech news, and other such "leisure time."
This time I knew that if I made another trip without filing my expenses, I would spend even more time doing so after the next trip, since receipts would start to get mixed up in my wallet.
(Receipts are fascinating, actually. Sometimes, I think that certain receipts, instead of doing amazing vanishing acts, manage to procreate and multiply! And who likes accounting, anyway? Accountants. Normal people, nope.) This Sunday's misery was extended by the need to get flights booked on short notice. Additionally, tax declaration had to be done online. This was not my favorite Sunday.
Day 10, Monday (BIZ, CTO, DEV, CON): First thing in the morning, I had to check the status of an old project invitation that I now had to turn down due to lack of time.
One old client requested a meeting to take the next step with me (I had done software development for them earlier), which would be great if we could do it live, possibly leading to a sort of CTO role or similar. This was followed by lots of communication on setting up a meeting and what the further contract would contain. It turned out that we could meet live — in Singapore!
I checked my tester's report on the Ph.D. student's software. The afternoon was spent compiling all the material from my previous work, so the new Singapore startup client could avoid the pitfalls that I had fallen into years earlier. All old and new projects seemed to click. I was on fire!
Day 11, Tuesday (INV, CON): I had a long call with my consultant client in KL. We went through much of what I had imagined and wrapped up the immediate plan. I made another call to my Singapore startup client to confirm what I could present to them on Friday, as well as the schedule. The rest of the day was spent on gathering up more materials for them. And there was a bad attempt to sleep early before my flight.
Day 12, Wednesday (CO-F): I had an early 4:00 a.m. departure to Bali via KL. Once I made it to the KL airport, however, the flight schedule board showed a two-hour delay. I was somewhat worried if I was going to make it to Bali on time, as my client was flying out in the evening! Then all this trouble would result in nothing.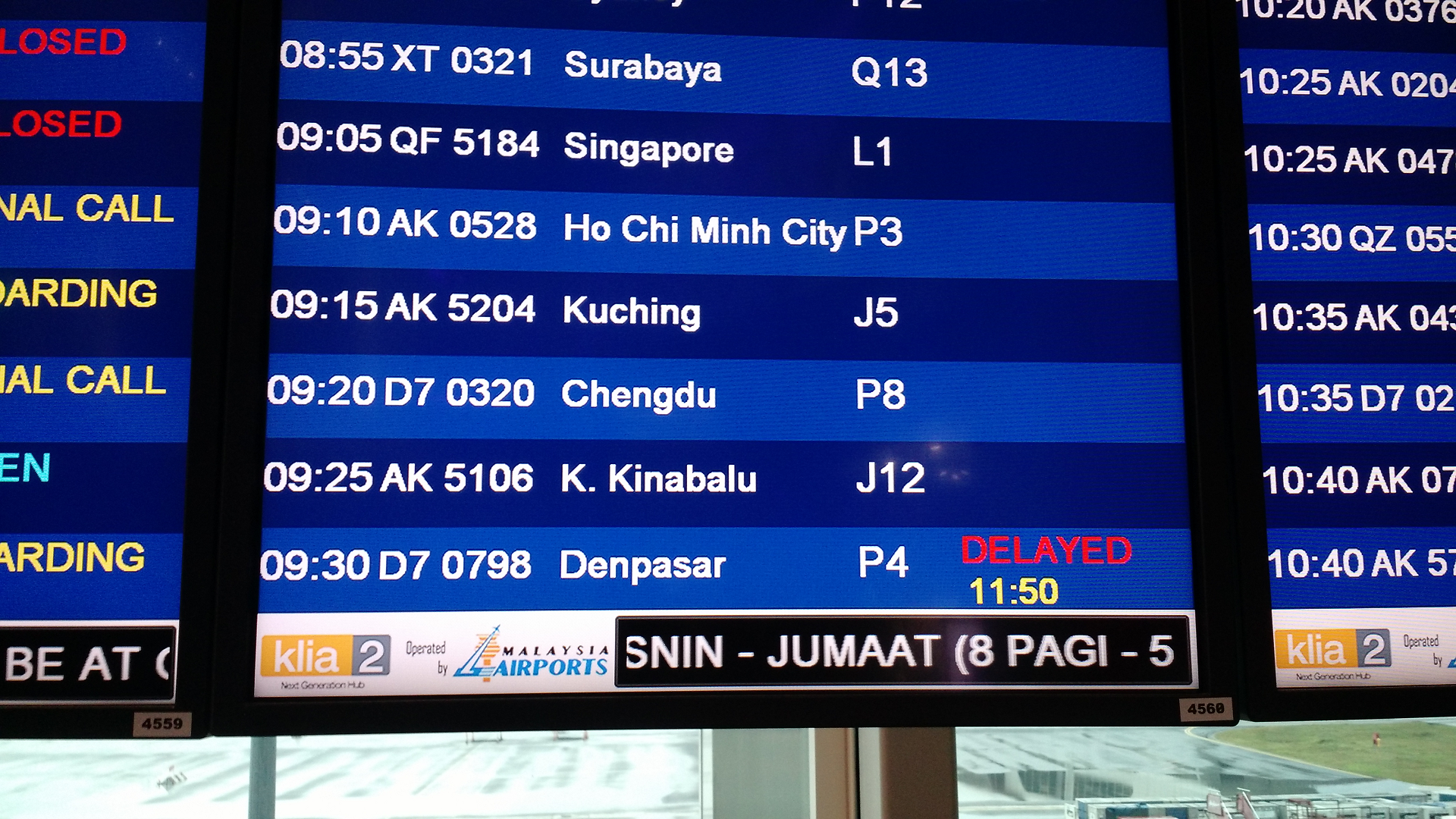 I don't always travel in the morning, but when I do, the probability of getting delayed increases drastically. I hate it.
We departed late, but eventually, I did get to Bali Denpasar airport. Unfortunately, the immigration queue was quite stuck, so it was 4:00 p.m. by the time I got out of the building. But at least the client sent a driver (the only way for Bali visitors to get around) to pick me up … but he was not sure where to go, so I had to call my client. There was a bad connection on the foreign phones, but I understood it to be some sort of beach club. One point to these guys for style!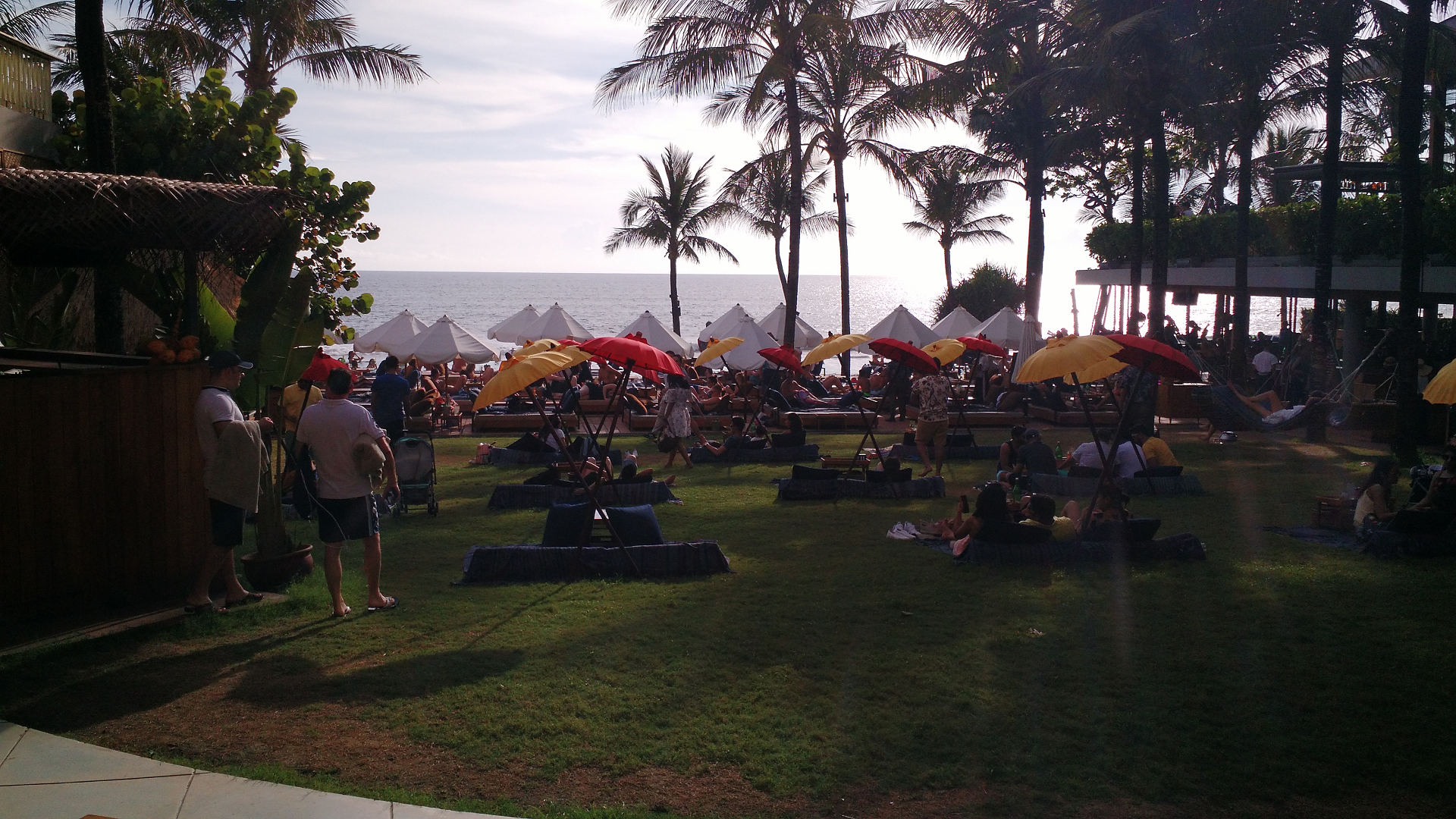 After a security check, I got "inside" the meeting venue. I knew it was some kind of beach club, but this looked like a beach party club to me! The meeting took place on the patio at the top right corner. I totally liked these guys' style.
The meeting went really well; I demonstrated that I had plenty of experience that would help them. My portfolio slide includes a picture of Barack Obama and Angela Merkel looking at a robotics product that I had a small (but crucial) role in developing, and this usually gets people in the right mood. Perhaps as a side effect, we actually ended up having a couple of beers too.
(Few people would take the trouble of flying to Bali for a few free beers, but I accepted it as a benefit of my profession.) In the evening, I managed to get a taxi to a random hotel I had booked in a hurry. I expected any place downtown to be fine.
Day 13, Thursday (CO-F): I had a slack day for follow-up meetings if it became necessary, but since those guys flew out yesterday, I had a free day in Bali! It would have been far more fun with my family, however, so I just ended up walking around the streets of Kuta and thinking over the problems of this new client. (I did manage to dip inside the hotel's pool at one point.)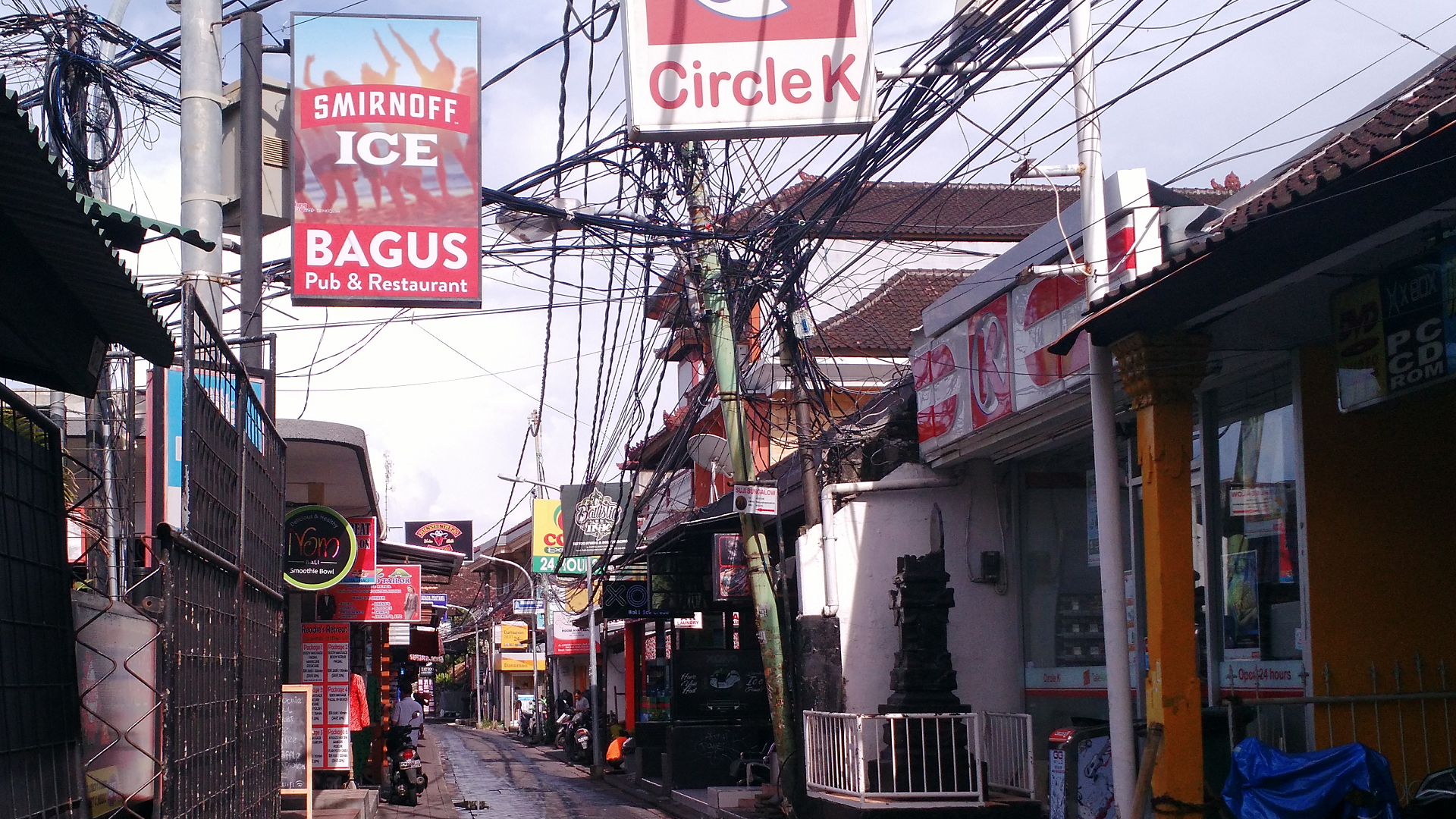 Since I had only been to Bali for the holidays, walking down the little alleys in Kuta was a new and nice experience for me.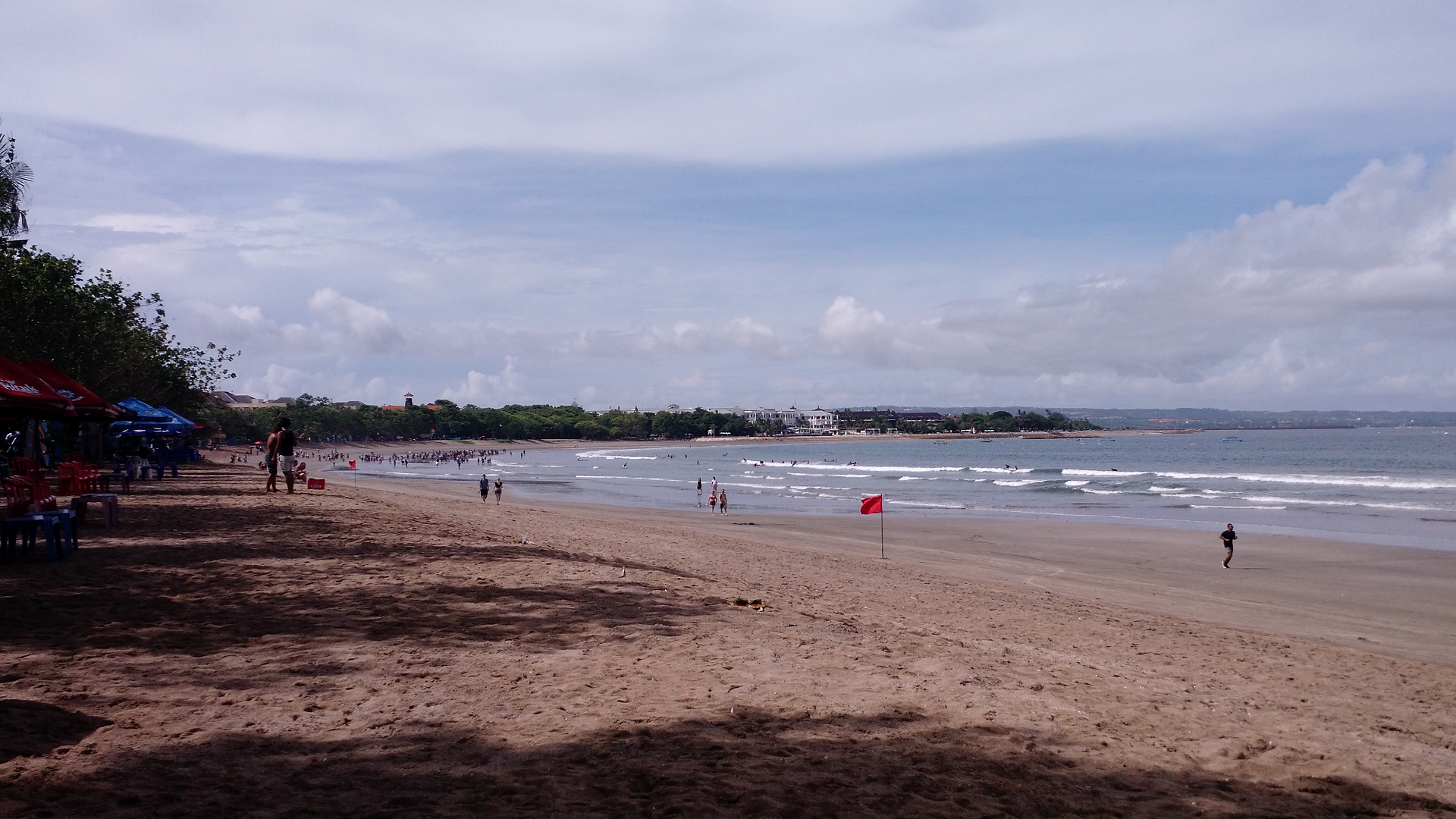 Kuta Beach in the morning. Not very crowded.
In the evening, I had enough understanding of what was related, so I started sketching up a roadmap for them.
Day 14, Friday (CON): I had an early wakeup and skipped breakfast, departing from the hotel at 5:00 a.m. and flying from Bali to Singapore. Before noon, I was at my startup client's office to first see their pitch training as a guest audience and then go through their demo. It was far more abstract than practical, so as a demo to anyone in the field, it would never work. (This is a typical issue that I remember from doing demos during my Ph.D. — only experts get them.)
But I could see the abstract parts as they were and suggested bridging the two in a way that would make sense to others.
We went for lunch together and spent the whole afternoon planning the next steps forward, including how to improve the demo with a real-world scenario. I took a good long time explaining the issues I encountered in a similar previous job and the general attitudes they would have to consider in the domain they hoped to enter as a company.
Overall, it was a super productive afternoon on planning technical, presentation, organization, and project and risk management-related things. I even shared the metro ride with one of the co-founders on my way back to the airport. And I bought the item that I had lost last time for my wife — again!
Day 16, Sunday: Finally, I had a work-free weekend! Yesterday, I didn't do anything. Sometimes, this is very healthy, but sometimes it makes me feel lazy. So, today, I had to at least do some accounting and filing my receipts from the last trip. A standard Sunday, basically.
Day 17, Monday (CON, DEV, PROF): I checked the schedule with my Singapore startup client and booked flights for next week's trip. My tester's report looked good, so I only had a few things to deliver for my Ph.D. student client, whom I called to check if there were any changes in the schedule. There were none this time, luckily.
Day 18, Tuesday (PROF, BIZ): For the first time (within this story's timeline), I had time for my own product development, which required changing my demo version, which had been built on old hardware, to work on the latest hardware. This was fun and very nice to do, especially since I hadn't done any coding for weeks.
I received a semi-random contact from an Indian software firm that could help me take care of other product ideas I had and took a long call to see what collaboration could emerge from this. As a result, I started thinking that the collaboration mode would probably turn out to be too much work for me, so I would need another person to run part of the management before going forward with this.
Day 19, Wednesday, to Day 25, Tuesday (PROD, BIZ, PROF, CON, CTO): This was almost a full week of peace and quiet at my home office. I managed to focus on my product development for a few days in a row, reject a few more new client requests to avoid getting overbooked and work with my tester to deliver a milestone to the Ph.D. student.
There were communications with my old client who wanted to re-hire me and extend my role. We found a good match and prepared the contract, with the prospect of meeting in Singapore in a few days' time.
Day 26 Wednesday (CON, CTO, BIZ): I was once again in Singapore, from a noon flight. This time, I took my family with me for a quick visit to our ex-home country to see friends. I was supposed to meet with my Singapore startup client on this day, but that half-a-day meeting got postponed due to their "dynamic plans" (which to me, were famous — or rather, infamous — by now).
My only Plan B was to join a business event where I'd meet head hunters, HR people, and other recruiters, mainly to do skunk work for my old client in case my CTO role got confirmed. We would need more remote team members, perhaps Singapore-based ones. This turned out to be quite interesting, as I learned not only about the people in the recruiting business but also about the current market, salary levels, and deals to be offered.
Unexpectedly, there were a couple of interesting new contacts, also from Malaysia.
Day 27 Thursday (CON, CTO): Yesterday's meeting took place today, with success. Their demo was getting better, so I had little to do. The next topic would be helping in project planning and execution of their first big customer project, which we would discuss the next day. So, I had time to go to the airport to pick up that old client who hoped to sign a long-term contract.
We took a taxi downtown, as the discussion was in one of the nice coffee shops. The whole afternoon was spent talking about immediate and long-term goals they had, and I presented all the relevant background that might help them. The afternoon meeting became a dinner in a nice place. We landed at a reasonable agreement that was good for everybody, and we were all happy to sign the contract. And good seafood landed safely inside our stomachs.
Day 28 Friday (CON, PROD): I had a morning meeting with my startup client. We went through their plan of getting their first big project executed without issues. I supported discovering any risks regarding the timeline and logistics (the project was to be partially done in another country), overall delivery, manning, and so on.
The good thing about this kind of client is that if their customer is a large corporation full of cash, paying the outlays and consultancy fees of anyone who just gets the job done usually isn't a problem. In this case, it turned out that I would need to join them on the field trip (for system installation, user acceptance tests, interviews, etc.) to make sure the first project was nailed.
That would work perfectly for me since they would have funding for the trip, which would get me inside the country, where I could stay on another week and work with yet another client! Since I try to never leave my home (office) for just one project, this was a good plan.
I had an afternoon flight back to Penang without meeting any of my friends in Singapore (my family gave them my regards, but it was a bit below expectations). And there was no sign of getting any slack once I got home. Instead, I had a long evening call with a prospective hire that I'd need for my own product development. This is how the money circulates: What my clients pay me goes partially to some of my own ventures.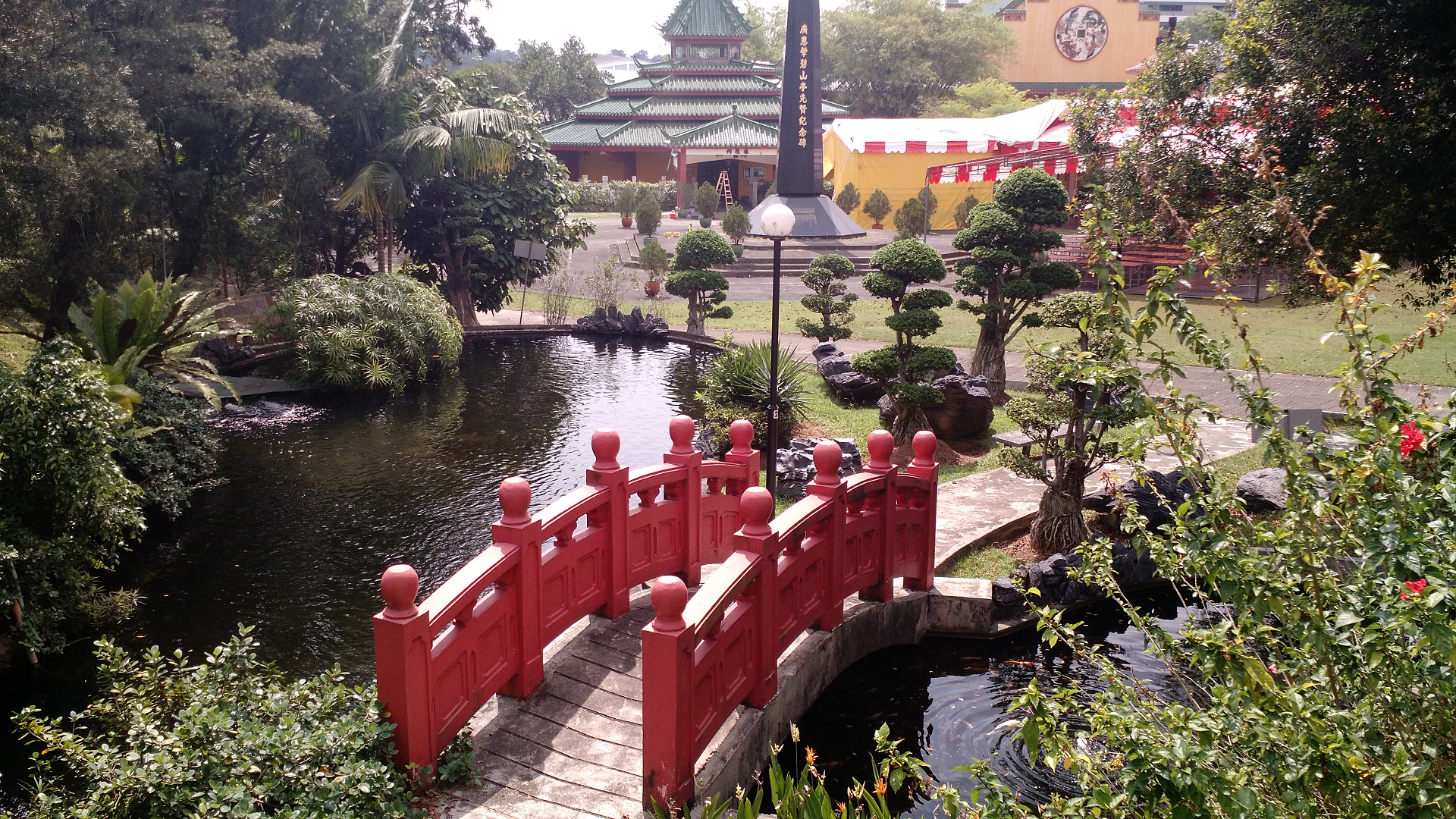 The only non-work-related thing I managed to do at this time was to take my kid to the garden of Lian Shan Shuang Lin Monastery, which is close to the old area where we lived in Singapore a few years earlier. It is surprisingly peaceful for a place between a major mass transit hub and a highway.
Then the story continues as you might expect: more calls to all the people involved on Saturday, accounting on Sunday, and back to developing bigger things for my old client in a new extended role. But I have to say, I had enough short-notice travel for one month! Three separate trips and three countries covered, using Singapore and KL as my transfer hubs. Afterward, when doing books for the year, I wondered why the hell I had gotten air tickets to Bali… not for just free beer!
Travel tips for hectic freelancers
When writing this story, this hectic month is now far in the past for me. Lots of new experiences, very cool new business contacts, and all that. But major scheduling complications and misses gave me a few good lessons that still stick in my mind:
Don't do this kind of intensive travel. Ever since that month, I try to keep a better balance between certain or regular activities and unexpected activities. Just say "no" sometimes! What helps is thinking of your own long-term aims, rather than looking for the next cool thing that may or may not happen. In this case, the Bali trip only resulted in a short-term consultancy rather than a long-term engagement. Had I known how much work I would have in the next few months, I would not have been able to give much to those guys, anyway. Perhaps I had speed blindness from switching between so many projects multiple times a day. That can get confusing and it is easy to lose your focus. It was only manageable to me at the time because many of the projects I juggled around did not involve much software development. Had that been the case, I would have called for a break for deadlines.
Never leave the office for just one reason. I've had this principle for quite some time, but now it's very clear. If I couldn't have organized all the traveling to become a roundtrip, I would have missed half the meetings, or I would have lost a tremendous amount of time if I had done each one separately. There have to be at least two reasons to make it worth it.
Have a Plan B during travel. Even though my plan for each day was pretty solid, others can be more "dynamic." I had a few events marked out that turned out to be useful, but I could have had a few more, to be honest.
Whenever possible, always pick noon or early afternoon flights. Morning and evening flights are full of business travelers. Advantages of afternoon travel: less traffic around airports and therefore, less chance of getting stuck in traffic jams. There's also not that much queuing inside the airport, and even the plane might not be the can of sardines it usually is. In this case, the only flight that got delayed was the early morning one to Bali. I thought I'd be safe with its schedule, but instead, I nearly missed the whole meeting because of the flight delay.
So these were my "travel tips." When you work for a large customer base outside your immediate surroundings, unexpected things start to happen. You never know if you'll end up at a beach party in Bali!
A man of many hats — I should add the classic beach variant to my official list of hats!
I learned my lesson. I haven't done any similar schedules ever since. In case you're experiencing these kinds of challenges when starting your own freelance work, feel free to connect with me on LinkedIn and we'll exchange some "travel tips."