Many freelance developers seem to think the numerous freelance platforms you can find online are becoming something to avoid. Many of them complain, for instance, that:
There are too many freelancers in the market.
Clients only want to press down the price.
There are too few good clients.
Most clients are just looking for the cheapest things.
All those freelance platforms are so cost-oriented.
There are no good clients anymore.
This gig economy will hurt us big time, eventually.
My experience is the opposite. Here's the proof! This short article lists the best ten Upwork invitations I've ever got.
Usually, I don't mention the exact freelance platform that clients use to find me. I've used a couple of platforms. This time, however, I don't mind advertising Upwork. So far Upwork has been by far the best platform for meeting serious high-end clients making my experience with the client very different from what others seem to get.
There are two types of invitations that I wish to show you here. They both relate to being visible to the clients that I want to attract. The high-end clients who invite me seem to be:
Looking for something specific, which is a perfect match with what I do. These come to me as project descriptions that are earmarked to me. I don't mean the separate invitation message, but the description, which usually starts with "Hi Mikko!"
Serious and able to put their money where their mouth is in the dozens or hundreds of thousands. Their projects tend to be actually funded, as I came to realize after a short discussion with all of them.
Let's start with the more flattering ones, those that come to me only. (Please note I have removed the identifiable information from the screenshots to protect my clientele, as in every article.)
Invitations with my name on
The most exclusive invitations are those that are not sent to anyone else. A typical case is, of course, repeat clients. They may just send an invitation to a project that they are only starting to plan but decide to inquire about my availability to give me enough lead time to wrap up ongoing projects. This kind of invitation is hard to refuse!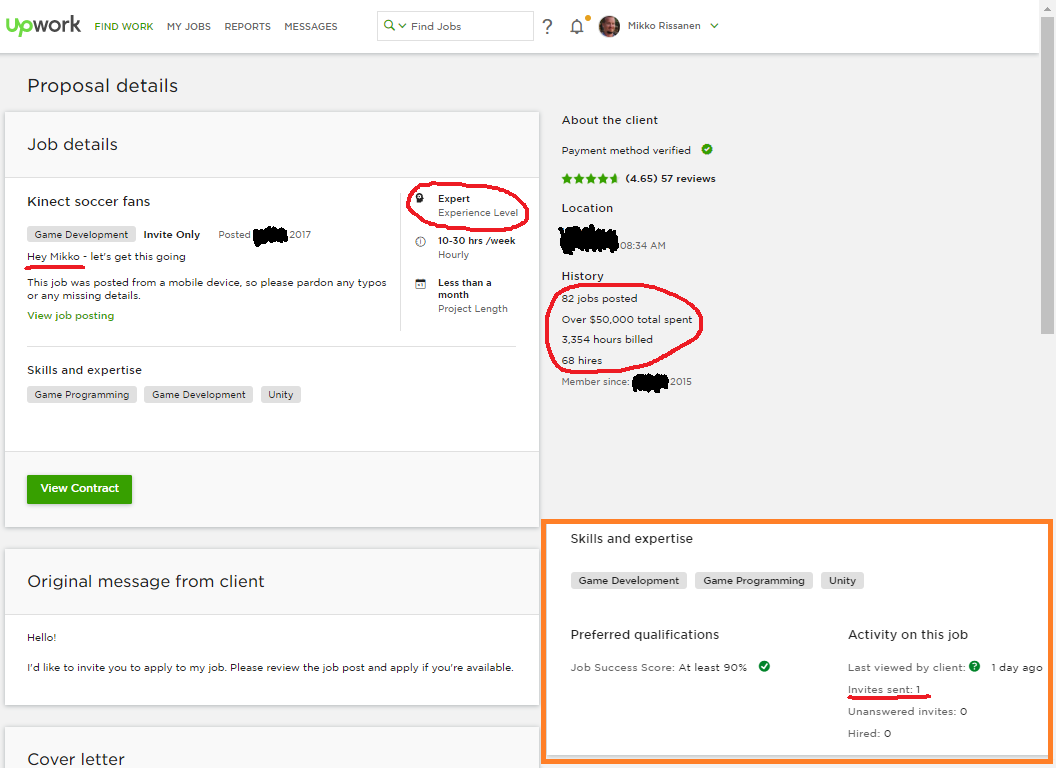 An old client of mine sent only one invitation. The company is a heavy user of Upwork, back in 2017 they had spent over $50K, nowadays they must be closing $100K.
Other clients are looking to develop something unique that is a complete match with my skill set. In that case, when seeing the obvious match, sending invitations to others is no longer necessary before the discussion with me has been finished. I always reply to these invitations, of course, but sometimes the reply is simply "too busy with ongoing projects" put nicely.
This is the dream of every online freelancer, right? 😉
It works in two ways:
Within Upwork: My profile comes up as number one in their keyword search.
From outside Upwork: They find my website by Google search and the link to my Upwork profile which I sometimes use as the primary contact method for new projects.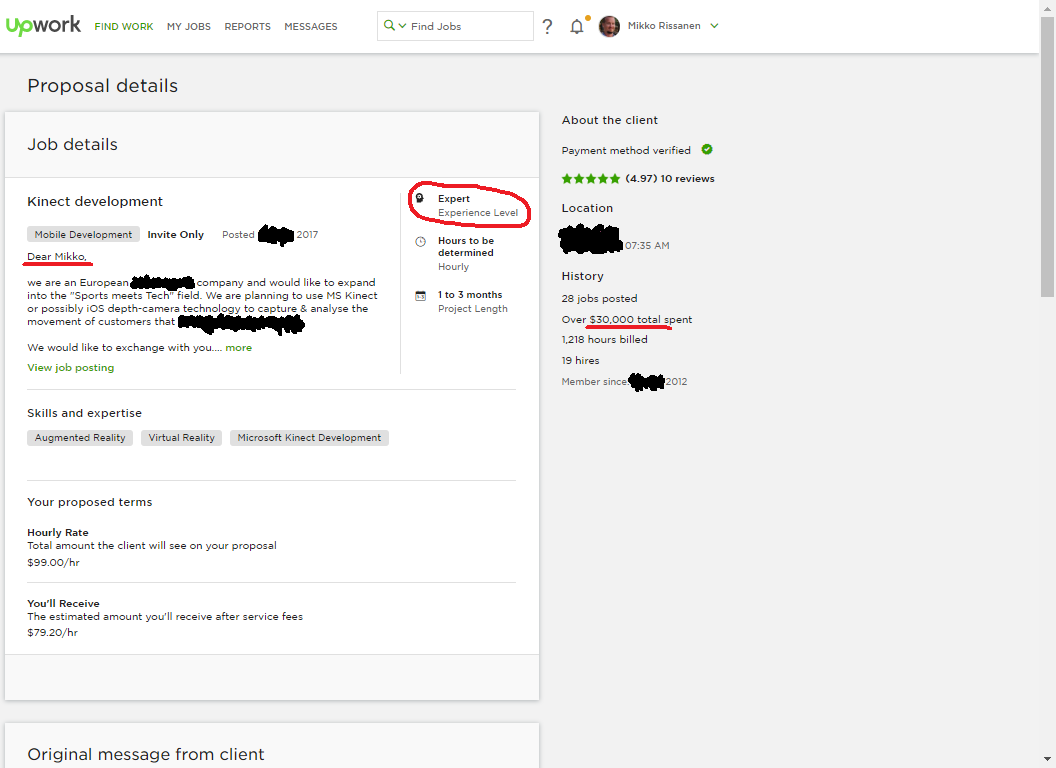 A new client with more than $30K spending wrote a project description with literally my name on it.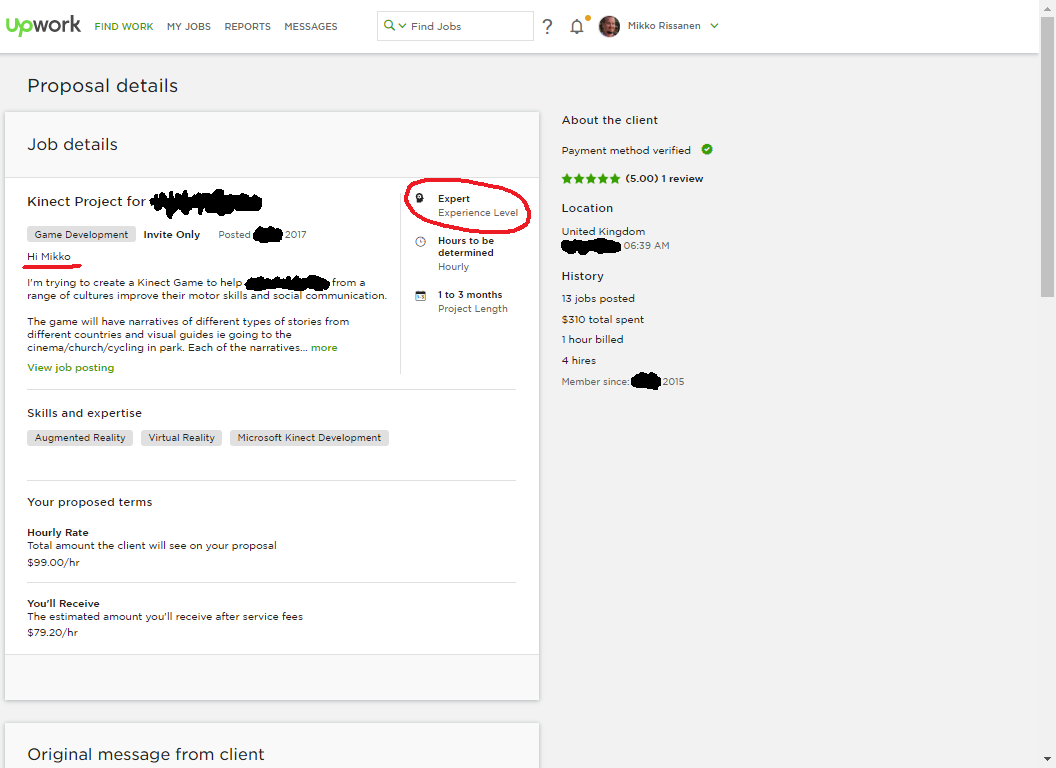 Another similar client sent an invitation to a project with my name in the description. This one, though, has only hired freelancers for little projects so far.
There are lots of companies that have incorporated freelancers on Upwork to their normal business operations. It is always good to check the project history of the client and the overall spending to date. Some clients look extremely serious when you look at their numbers. No need to worry if they know how Upwork works, just go for it! Most have spent tens of thousands, many hundreds of thousands, and some even millions!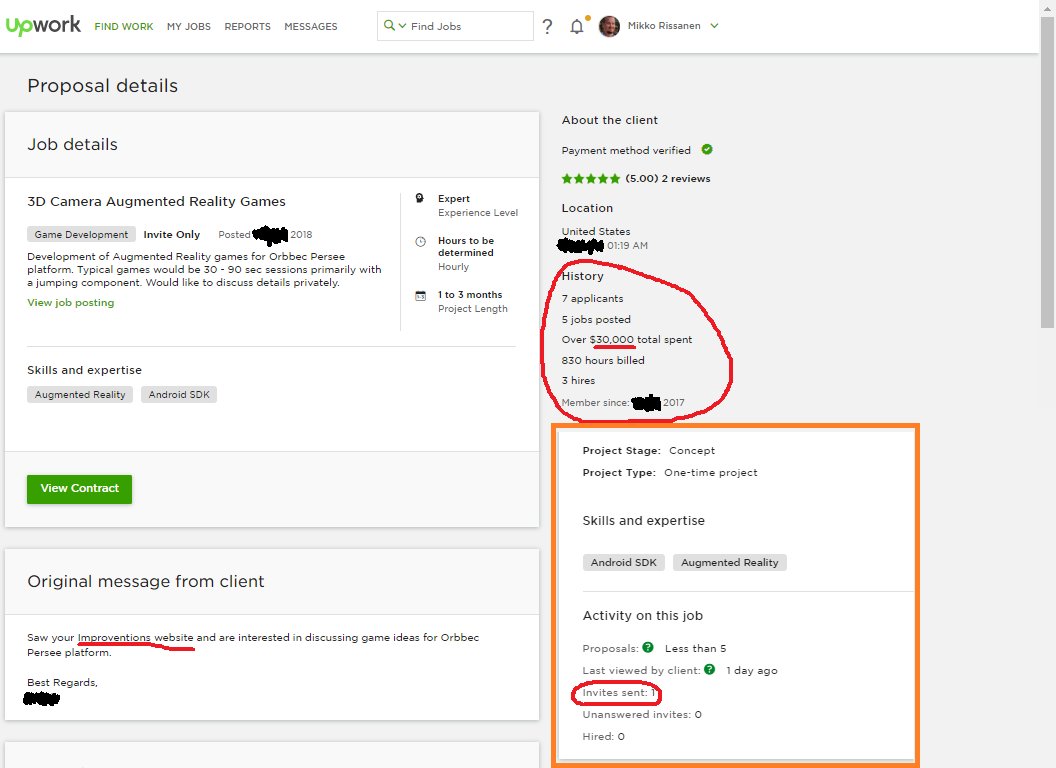 A serious-looking client who had hired only three others for more than $30K earlier and only invited me for the job.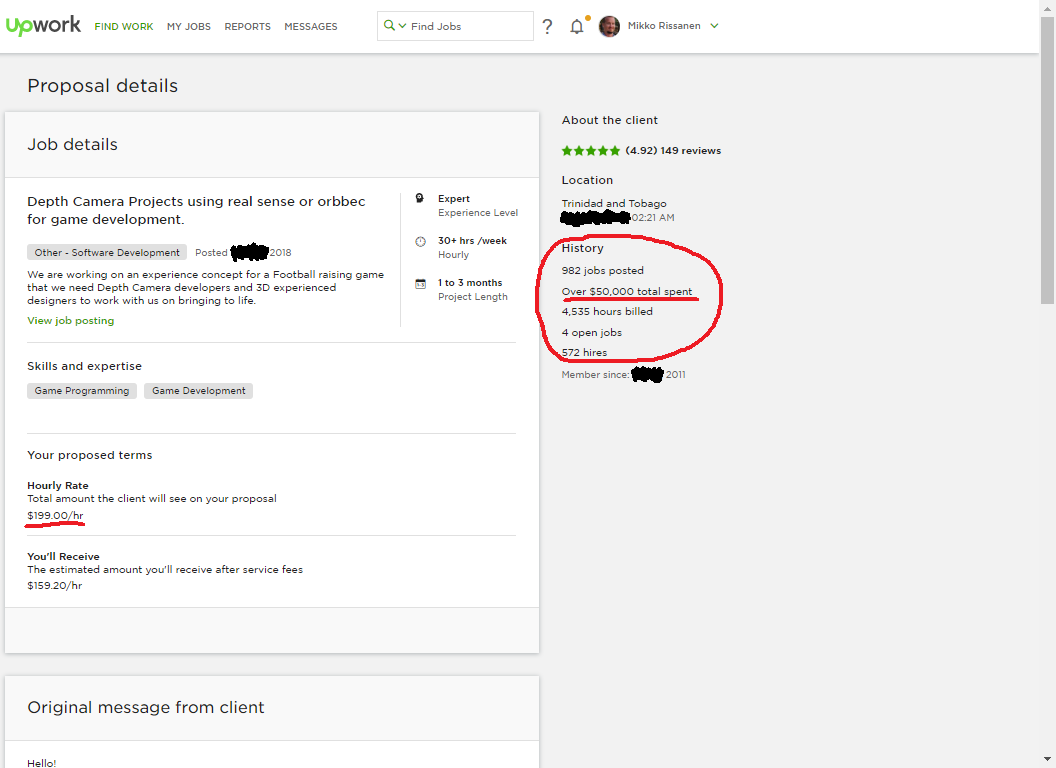 This client was not intimidated by my list price of $199/h. Looks like my kind of client! … and we would have a lot of things in common such as living on a tropical island. 😉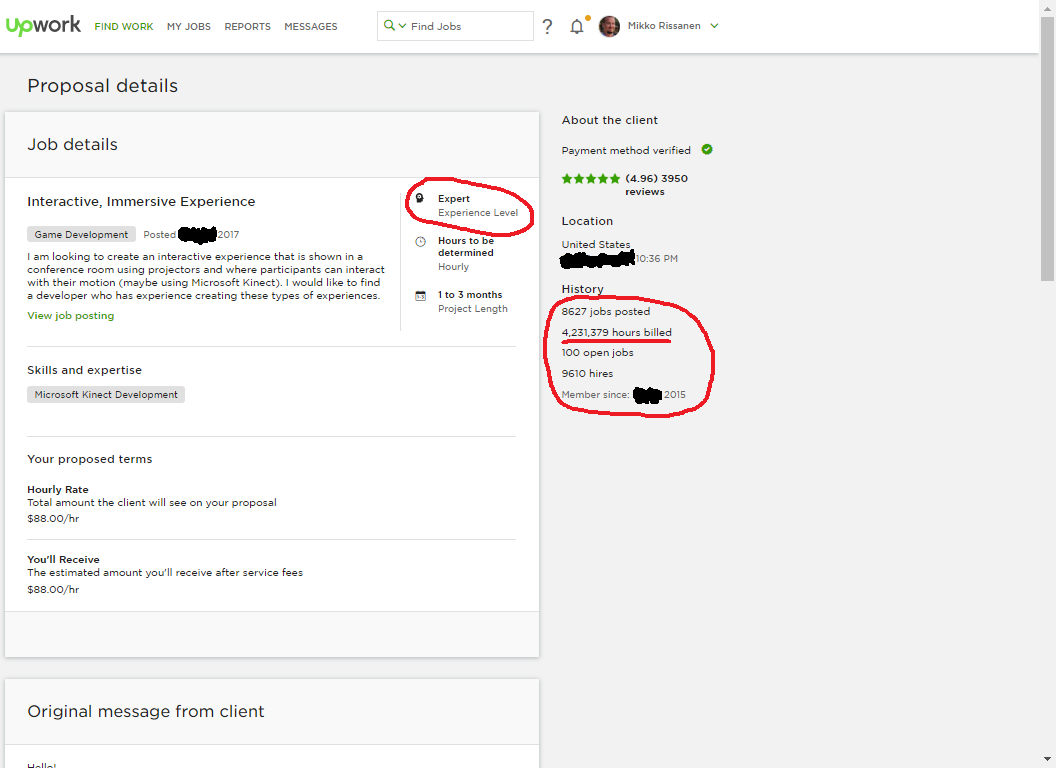 The heaviest user of Upwork that I ever got an invitation from with more than 4 million hours of work bought through the platform between 2015 and 2017. Looks like a very good business!
Invitations by serious clients with serious budgets
Some good clients have figured out their funding and are typically seeking only the top guys for the job. Some of these kinds of serious clients come from quite surprising countries, by the way, not only from the United States.
This somewhat new Upwork client sent this invitation to an AR development gig of $10K.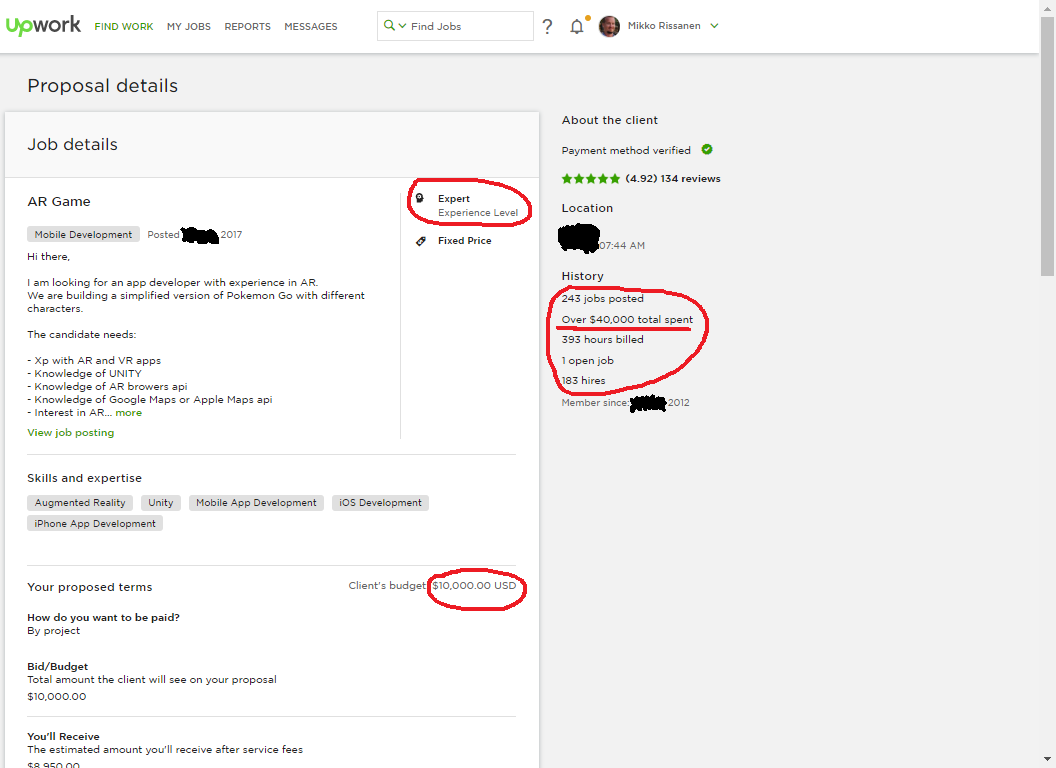 Another much more experienced client (over $40K spent) invited me and a couple of other AR developers to a $10K gig.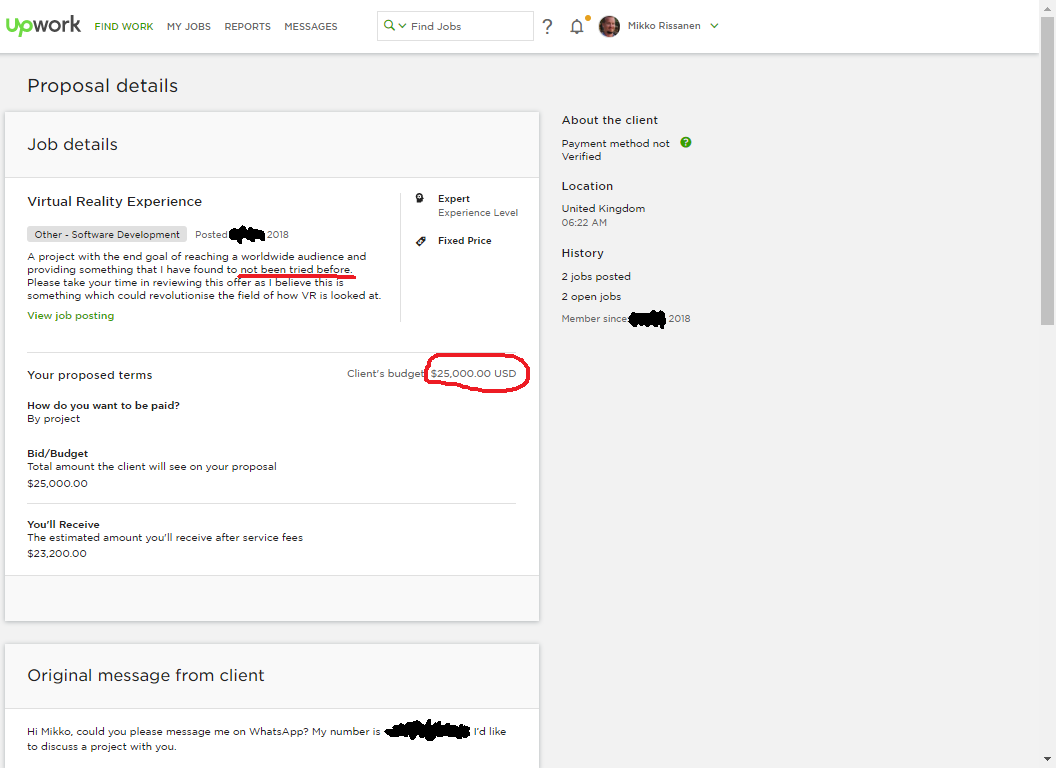 This client seems to be attempting something in the class of "do not try this at home" with a $25K budget.
You might think a budget over $10K is there only for getting lots of proposals from freelancers, but that is not what I found after engaging in a discussion with these clients. Actually, the most serious big-budget projects are invite-only and the invitations are sent to a couple of selected freelancers. Then, the searchability of your freelancer profile becomes critical.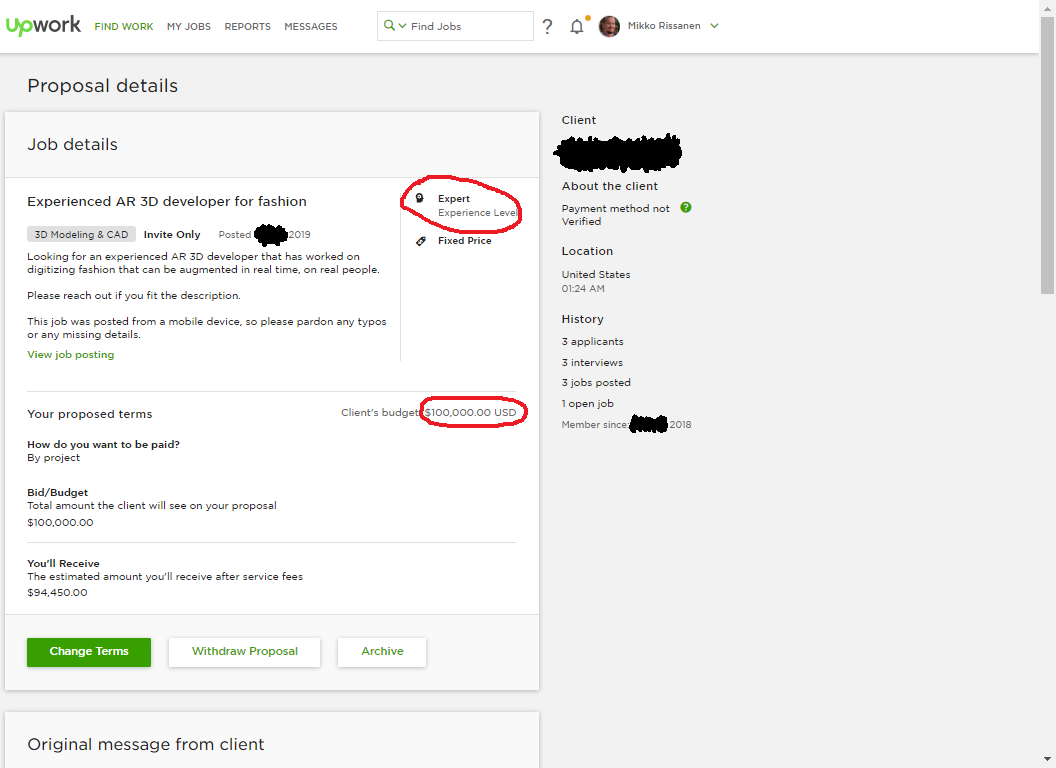 This ambitious client has a budget of $100K for a real expert!
When getting this level of invitations, it rarely matters what you set as the tentative quotation. Nobody would commit $100K before proper discussion during which a concrete plan would need to be developed. The discussion might take weeks or even months, in case the project is really worth using your head for thinking it through before committing any technical work to it.
It could also be the case that the budget mentioned is the client's estimate for the overall project which could include other freelancers. This is something I'd go forward with from the CTO-as-a-Service perspective unless the client has hopes of building a team for a long-term aim and deciding the team members themselves.
Mythbusting by keyword analysis
As you see now, most of what I hear from other freelancers is not true. Why is this? Why do I get so many invitations from very serious clients?
First of all, you have to be specializing in an area that is easy for the clients to find by using the keywords they know. Did you notice the keywords I used? Seven out of ten matches the keywords that I listed directly. At the time of getting most of these invitations, the only skill that I listed in the system was "Microsoft Kinect Development" which is the closest thing for Orbbec sensors too.
In fact, after the discussion, I learned that one more client was considering Kinect or another similar sensor for the project. That makes 80% of the best invitations to hit the keyword I used, i.e. the client's intention was to develop either games or more demanding applications on those 3D sensors. The first profile title that I used for years said only "Ph.D. level Kinect and VR expert," so the match must have been obvious to all.
The other two invitations match the overall keywords "AR" or "VR" that I also included in my profile's description section, mainly for maximizing my visibility rather than targeting. Still, I got good hits!
An interesting thing to note is that the client often faces some trouble in picking the skill category. Of the eight invitations to Kinect projects the categories were:
Other – Software Development (2)
Game Development (4)
Mobile development
And the last one is completely mixed up
Although it is important to have a match in the skill categories, most of these clients seem to use a free text search, probably because it is the easiest thing to do. How the search works exactly is unclear and I bet any of the platforms will not publish the specifics.
The bottom line is that the title of your profile matches the title of the job. It's not more complicated than that.
I'm not saying that this all only depends on how the platform search works. Actually, any experienced client who knows how these platforms work also knows how to read the freelancer profiles.
A person with all possible skills listed may not attract the client who is looking for highly specialized experts. Listing just one or two keywords and skills might actually improve your chances of being seen as an expert. It's not only about the technical aspect of the search function.
How to make your profile to get those invitations
Obviously, keyword analysis is a must. Even if I have a top profile in general terms, I would hesitate to present myself as an "AR developer" only, as it would be a far too wide set of keywords. If you think the freelance platforms are a battle against other freelancers, it is better to pick a fight you can win.
This comes down to the same issue as almost everything else in freelancing: specialization. You have to have a specific enough profile and a skill set that attracts a certain type of people, and you must find a large enough market that you can target. In theory, that's all there is.
Unfortunately, the practice is more difficult as you might have to spend time on learning skills (programming languages, stacks, application domains) and providing evidence of using them which would make your profile shine.
Freelancing is a game for specialists. Clients pick the one who is sure to get the job done rather than risking it by engaging someone who knows "programming" in general. This applies to small companies especially. For example, the regular client I showed above can never risk failure in a project that delivers something cool for big brands such as The Coca-Cola Company for whose event our Kinect installation was the main attraction.
Once your specialization is clear, writing your profile on Upwork or on any other platform is rather easy. There is little chance of getting started as a "web developer" if your competitors are count in thousands on just one of the freelance platforms. A better strategy would be targeting certain application domains or even specific application types. Perhaps, what you do better than most depends on the target clientele.
For instance, an "e-commerce website developer" would be much better than a generic "web developer." An "e-commerce developer for LLCs" would be better than an "e-commerce website developer!" LLC (Limited Liability Company) would be quite a specific group of clients, but it would improve your chances of getting a good match with your profile and a good client's project.
As a single person, a freelancer, improving your penetration in one area is far more important than maximizing your visibility in all possible areas. Eventually, it comes down to the simple fact that a client has to pick one freelancer out of the limited number of options. When you are seen as the best one available, you get the job. The best specialists get all the best clients.
Which technical area or clientele are you specializing in? You decide!