There are many ways to find paying customers for your freelance business. Some depend on what type of work you do as a freelancer, others work out pretty well regardless of the type.
In this short article, I outline five common, good sales channels and explain what it takes to build them:
Real-world networking
Professional associations
Personal website
LinkedIn
YouTube
All proven to work!
As CoachLancer.com is already full of tips & tricks, stories & guides, I exclude freelance sites from this article. Enough of that topic is found elsewhere on this site.
Sales channels No. 1: Real-world networking
Ex-bosses, ex-colleagues, special interest group meetings of all kinds, and other events would fall into this category of a freelancer's source of work.
This is the way I started. My first ever project was actually funded by prize money we got from Kyoto City. As I was telling an old senior from my Kyoto University days about starting my own thing a little before I registered the company in Malaysia, he found a good simple funding source for the kind of project we could do together. The city of Kyoto was having a competition of new innovations that could benefit the city and society as a whole.
We drafted a concept of training elderly peoples' balance for avoiding injuries due to accidental falling. My friend's lab had been doing research with researchers developing eldercare technology. Perfect match, perfect timing, all we needed was a good concept and application.
Despite the fact that the competition was open and there were twenty other applications, we thought we could hit the nerve of the innovation board. Good concept, new technology, clearly explained the wide impact on society. We landed a small innovation price of one million yen that I could develop a prototype of the system with.
My first project came via an old student buddy of mine from Japan.
Regarding other connections, ex-bosses, and ex-future-bosses (business owners who called me for job interviews years earlier), it worked out pretty well for me too. I joined my ex-university in Finland as an external Ph.D. thesis adviser paid by my professor and mentor I've known for over a decade.
I also caught up and went for coffee with someone I had had a job interview with but did not proceed then as I got a better offer from elsewhere at that time. Now, as a freelancer, I joined this persons' company, a small geographically-distributed software team based in Singapore, Thailand, and the Philippines, as an interim CTO to cover their transition period to make sure no technical assets were lost. As we had already done a job interview years earlier, we had a shortcut in the hiring process and negotiations, so things went forward very quickly.
Checking with your old connections is always a good way to start freelancing, and perhaps the most common and safest approach! By utilizing your existing relationships it is easy to get things going as you do not have to brand yourself and you can skip the effort of building enough trust to land a contract. This is probably the best approach when starting up before you have any portfolio as a freelancer.
But the freelance work done just for your ex-employers can expire quickly unless there is a constant role that you can take for years. Usually, supporting role only. Therefore, doing real-world networking actively is important.
Participating in various special interest group meetings and networking events can be very effective, particularly if you can be the one most visible. There is no other way to get into the minds and hearts of people than being a presenter in a meeting, conference, or some other event. As long as your story is convincing and relevant to the audience you can quite easily appear as a thought-leader with an important message to tell. Doing your presentation right usually brings direct questions and requests for future projects to you.
This happened to me just one week before writing this article. Organizers of a local Industry 4.0 themed conference here in Malaysia turned out to be a pretty interesting one. It turned out that the audience consisted of all the largest companies around here, including Malaysian Airlines, Petronas, etc.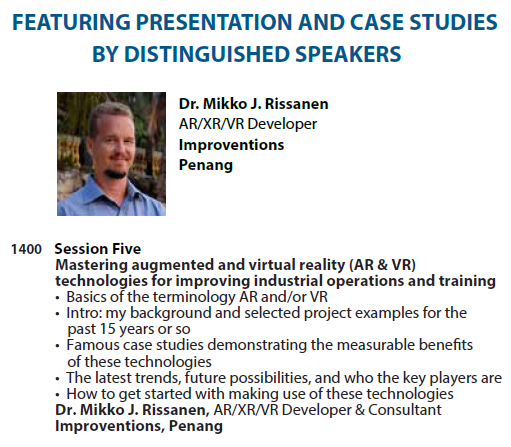 Pushing yourself visible in a crowd as a presenter is a good way to build an image of being a thought leader.
Giving presentations is not of course everyone's favorite thing to do, but if you don't mind doing it, you can reach a lot of people with your basic message, which is not only the story you tell directly but you will also be the point of contact for those people interested in the topic you present or just the field in general. Make yourself memorable sticks in the minds of the audience.
In this case, I got good relevant questions from the audience and booked two follow-up meetings for the next day, which was a direct consequence of spending a short 30 minutes talking about the type of work I do and its impact on various organizations.
If you're a sales-oriented, people-friendly person, few other approaches build trust as well as real-world networking. It's because of the directness, human touch, and the chance of just being the charming person that you are when interacting with potential customers. Some are natural, some are less natural in this. Sometimes it is good to force yourself to go for some networking opportunity and take your place in the spotlight for a while. Sometimes a bad presentation ruins your chances of making genuine contact! Fortunately, presentation techniques can be learned by anyone.
Despite all the other channels that worked out perfectly for me, I never dropped the real-world channel for the above-mentioned reasons. There is still no replacement for real-world meetings when it comes to building trust quickly and getting yourself introduced to the right people. All you need is to go where your intended clients go and interact.
Sales channels No. 2: Professional associations
Professional associations can be a very good way of building a very direct, efficient, and in many ways very convenient sales channel. This is because you would join an association consisting of your peers with a clear offering that makes a natural match with their needs. Often this is a great opportunity for a freelancer to be the guy when those peers are in a fortunate situation and basically yelling "hey can someone introduce us to a good XYZ professional, we have more projects than we can handle!" 🙂
There are many groups online you can join for free, but actually, once you have understood the logic that you always need to spend resources, either your money or your time, for building just about any sales channel, paid membership organizations can be one of the fastest ways to get around. And if you take membership fees as a kind of marketing expense, it is easy to calculate how much you get for how little amount.
Here's a practical example.
As virtual reality (VR) and augmented reality (AR) technologies are the core of my technical competence, I thought there should be opportunities in global associations, particularly the largest and fastest-growing one, the VR AR Association (VRARA).
I checked around who the members are and approached the one who seemed to be running things in the circles that I could consider being local around here. From the person I was first approaching regarding my potential membership, once joined and paid the membership fee, I started getting requests for quoting projects from Day 1! That was quick, I thought.
But it got even better!
Many membership organizations like VRARA have internal job boards. Follow those and you see loads of opportunities. 😉
In addition, networking events are probably the most efficient way to get around. As each member is already vested in the amount of the membership fee, there is a built-in expectation of reaping the benefits. Hence in every encounter, just about everyone is thinking about all interactions with other members from a business perspective. Can this member work for me, could he be my customer, and so on.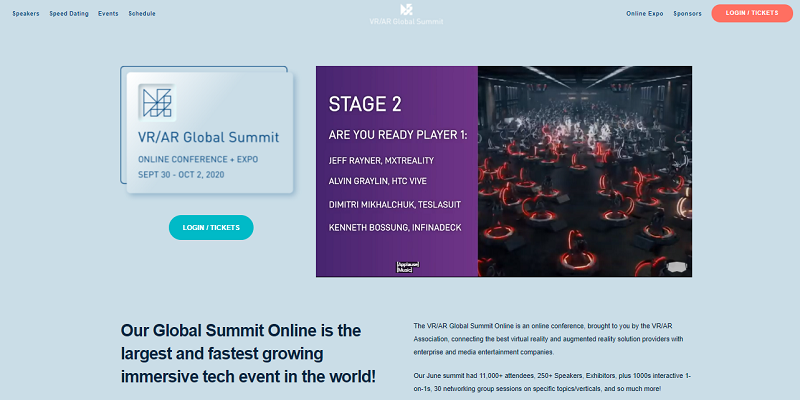 Networking events in paid membership organizations like VR/AR Global Summit are highly effective as everyone wants to benefit from the membership.
After joining, I just kept myself notified about the internal job boards, and very soon there was a good well-reputed company looking for AR/VR developers exactly like me. Particularly senior ones who can jump in and quickly get productive on short notice. The process didn't take long:
A quick intro and expression of interest
A short intro call about the project
Sending my CV and a couple of references
Offer!
I was supposed to go through a technical interview but instead, they sent me an offer directly to save time.
Going through an organization like this instead of attempting to make the connection directly from scratch on your own saves one step in the process. Every member has a reputation within the organization, so engagement is a business arrangement and perhaps a little safer than without the organization. Doing stupid things and causing trouble would probably lead to complications in doing business with other members since the word goes around quickly. And it works both ways as being the one who is hired or the one hiring.
A typical membership fee pays itself back the moment you start a project with just about any other member. Efficient, safe, and highly recommended.
Sales channels No. 3: Personal website
I never really focused on creating inbound business via my website. It has only ever been about portfolio projects, services backed with examples of previous experience, and news updates, so I haven't got a good example of building this type of sales channel of my own.
But Istvan Weisz has! Istvan is one of my favorite designer generalists who has managed to create for himself a perfect and scalable freelance business as well as an attractive lifestyle. And being based in another tropical island (his: Tenerife of Canary Islands, Spain – mine: Pulau Pinang, Malaysia) totally makes him a kindred spirit!
Here is Istvan's story in his own words:
"In 2004 after graduating from art school I start to work as a graphic designer. As I was a beginner, it took me two years to get a job at a real brand agency. However, the career has been promising, I decided to follow my own path and I launched the Logoby page in 2006."
"The reasons for that were the general obvious reasons why persons like us start to freelance: the freedom to choose the projects, the location, and the time when we work. I faced all those common challenges, how to find good customers, how to stabilize the income, how to do all the work that needs to be done properly on my own that we need to do, the administration work, the project management, the marketing, and so on."
"Finally, I came up with the idea of designordering.com which I find to be a working solution to get myself known with potential clients in the geographical areas that I want to target. The main reason was to bridge the gap between me and the customers from different regions. I try to find business partners who can contact local businesses all over the world. I create different subdomains for different locations like Munich (Germany), Rouen (France), Durham (UK), Boston (US), or Vancouver (Canada)."
"These business partners are managing the communication with the locals and I only do the design work. These pages are available in multiple languages, like English, German, French, etc. and the potential clients will deal with a local person (my business partner) in their own language. I also adapt all these pages to the expectations of the specific locations, like currencies, offer packs."
"I was learning from and at the bigger agencies that the designer should avoid direct contact with the customer. I have also learned that PR should be handled by another person but the designer. Even if there are common features with the affiliate businesses, the difference is that this type of business is selling my services and work."
From the beginning, Istvan made packages that can be bought directly from the site on Logoby.com's Services and Ordering page. Easily understandable content with pricing, that's all it takes, for example, the Basic service package for US$550 that consists of the logo, stationery items, and two social media cover images. The Standard package is $800 and the Premium which includes a complete website is $2,100.
The brilliance in this kind of packaging is that it solves certain needs of certain types of customers that Istvan knew need his services more or less from the start. The Standard package is designed in a way that it matches the need of a small new business and delivers more value than a mere logo, yet being approximately in the same price range. Great value!
Also, the packages create clear expectations for the buyers about what they will get for which amount. Doing both well means that people can make a purchase decision straight away. Thus, the deal looks really good and easy to buy.
Additionally, of course, the Order page allows custom packages to be selected, which makes the entire offering presented on the page appear very customer-oriented and flexible, yet fully transparent on pricing. This is all you could and should have on a pre-packaged order page. Just update the packages every now and then to stay competitive in the market.
Need more proof this is a good way to go? Ask Istvan, his site has been active and bringing business for over 14 years, which is more than double the age of my freelance business. I'd say his approach survived the test of time. 🙂
Now, designordering.com allows Istvan to keep making design products while others, many of them specializing in sales and marketing, bring him all the orders for execution. The process of finding and chasing customers and negotiating prices with them is therefore eliminated altogether.
He even made subdomains for specific regions. Now, potential business partners who act as local representatives can use specific localized subdomains of the main site that are created for attracting local customers in particular, for example, derwentside-uk.designordering.com.
Freelancing doesn't mean you have to do everything yourself. Istvan's approach is highly efficient and scalable to the point that he has no more time for doing anything other than what he does best. Optimal and brilliant!
Sales channels No. 4: LinkedIn
Well, everyone knows LinkedIn is great for the job hunt, why not freelancing too? Actually, there seem to be very few freelance project or contract opportunities on the official Jobs page, so is there any potential for freelancers really?
Here are a couple of examples; one old, one new. One obvious, one surprising.
When writing this article, I had a look back and realized I joined LinkedIn in 2007 while still living in Japan. It took over a decade before I started using it for business. By then, a freelance business. The good thing about LinkedIn is that it is all about people's works. Where-ever overlaps between people's professional needs happen, business can happen.
A few years back, before I was actively posting anything worth mentioning myself, I recognized an automated job update on my Notifications page. A familiar name from somewhere – couldn't recall from where exactly – had started a brave new venture focusing on augmented reality. Once I checked who it was and what the new startup was doing specifically, I realized there is an obvious overlap. Basically, I had been doing an exactly similar type of R&D work in Sweden and as a freelancer using that background for helping startups as a consultant.
The company was run by someone who was doing a Ph.D. at one of the top universities in Singapore. When I started hunting for my first job there back in 2013, I had given a short intro presentation in the student's lab so we knew the same professor very well. Now that student had gotten a fresh shiny degree and had started a company as the next big challenge!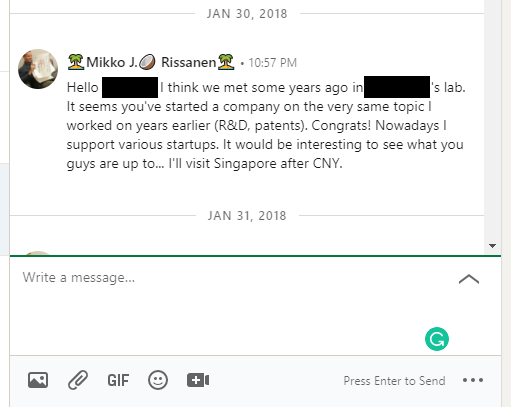 One short message was all it took to get started.
The above message was the start. A few more lines and I was listing all the patents and awarded projects from my past to demonstrate the relevance of my background. We met live in one of the famous startup office spaces in Singapore during my next trip, and from there it didn't take long until we signed a consultancy contract. My role was to bring in the experience that a fresh-out-of-school person could not yet have. Perfect match, perfect timing, and this would have never happened without seeing that career update on LinkedIn! All purely because of connecting our profiles five years earlier after a short real-world encounter. Did we even shake hands then, I forget?
I suppose the main point about LinkedIn is that even if you're not actively posting anything, there could be opportunities arising for just being connected and following the same topics and news and getting notifications of the career progress of others. Even passive participation can create random opportunities.
The other way to use LinkedIn is to be active, i.e. posting, commenting, and sending private messages to make yourself visible on the platform. The other example is of this kind.
One time when browsing and commenting on some of the VR-related news that I keep monitoring, I found one name with a clear headline that looked like a type of VR application I had never imagined. I sent a connection request with a short very positive note with smileys about how original the software is in my opinion. This went very quickly.
Day 1: Connection was made and we chatted a few lines about the immediate need of the company. They were hiring! I got the founder's email address and promised to send over info about what I could offer.
Day 2: I gathered the info including my CV and portfolio and emailed them over. The reply came in a few hours explaining the project scope together with a pitch deck about what the company is all about.
Day 3: I got access to the VR software so I could try it out to get my bearings.
Day 4-6: I was traveling with family, didn't do anything about this project.
Day 7: I went through the software to specify what parts of the development work I can help with and what amount of effort it would need.
Day 10: We managed to set up a meeting, discuss, and agree on the scope of my work.
Day 11-12: I did the first part of the work as agreed over the weekend.
Day 13: We handled invoicing and started to sketch up a long-term contract!
This was an incredibly fast jump-in to an interesting company's work that I randomly encountered on LinkedIn. We had no prior history, no introductions from anyone, no other thing connecting us except a gap in a business that I filled initially for a very small part. Connect, do a small thing first to test the ice, then escalate as it feels appropriate.
Keep connecting, be active, and anything could happen! And feel free to connect with me right now to increase your chances of finding a vein of gold. Who knows… 🙂
Sales channels No. 5: YouTube
The last sales channel, YouTube, is something that I thought would not match my personal qualities very well. But YouTube is perfect for Maksym Korzh a.k.a. Code Monkey King!
Code Monkey King's approach to freelancing is as genius as it gets. There probably isn't a single more niche field that requires programming skills than the niche Code Monkey King picked: chess programming!
Here is Code Monkey King's YouTube channel. Never heard of a freelancer making chess programs? Me neither, until I got in contact with him as one of my fellow freelancers online. As he says in this video, "without chess programming, I wouldn't have become a freelancer." Talking about freelancers who are free to follow their dreams… Simply perfect!
But what does being a YouTuber mean for a freelancer? It means a couple of things;
First of all, being just about the only one publishing tutorial videos on a very specific topic like chess programming, and being available for freelance work is a good way to establish the credibility of your work and perceived thought leadership. The videos on Code Monkey King's channel are all covering different subtopics of chess programming, ranging from how to solve specific programming problems to why people do it in the first place. The coverage is important for showcasing the depth of competence and expertise.
Second, it means you can "own" the niche on YouTube in a similar way as I owned my niche on Upwork. You are everyone's Go-To guy on one specific topic, the first hit with the right keyword. Going to very specific topics like this is unlikely to bring millions of followers to a YouTube channel, but that's not the point at all. The point is to have the right followers. Those who wish to learn from you and those who directly need you for getting projects done.
If just 5% of your followers would actually engage you in a project that can only be done by highly experienced specialists like Code Monkey King, all the channel needs to do is to be found by a few thousand people in total! That is because the specialization is so precisely targeted. People who are trying to find someone special do not need to search for very long.
Third, one of the most useful aspects of being present on YouTube is the fact that there will be comments pointing to new opportunities. For instance, someone notifying Code Monkey King that "I saw that chess.com is searching for chess engine programmers." Not only do you get to be visible, but you get direct pointers from those deep inside the target community! Once the initial content is there, the channel will bring you requests for projects regularly. Highly efficient, highly scalable, highly recommended.
Code Monkey King's journey on YouTube is a freelancer journey worth following. A success story, no doubt. Best of luck!