A full-time freelance career can be hard to start. This is especially true if you attempt to go straight to the top on any of the global freelancing sites be it PeoplePerHour, Upwork, Freelancer, or any of the other popular ones with thousands of freelancers doing almost the same business as you try to do.
To maximize your chances, here are my ten empirically-proven freelancing hacks that help you to start freelancing online.
(Originally I posted these tips on LinkedIn during September–November 2019. Follow the links in the headers to join the discussion!)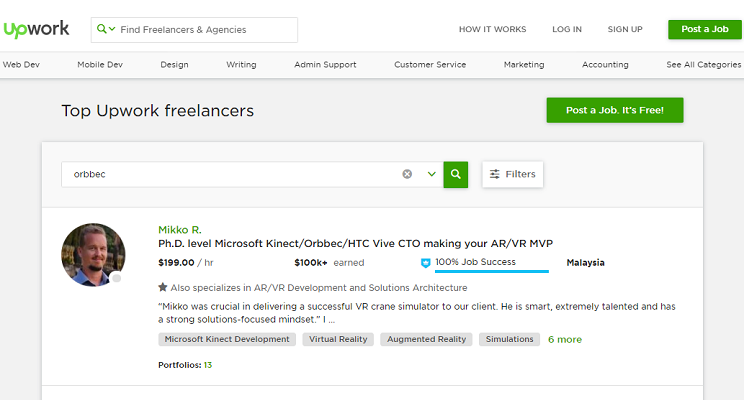 Knowing how the system works is one of the most important factors when considering starting an online freelance career.
Be sure to know how the search functions of your favorite freelance site work.
Many freelancers sign up to sites and hope that clients find them.
Usually, they don't. You have to make yourself clearly visible.
When Upwork.com was founded, I had done a couple of projects with one single technology stack under its former version Elance.com. The track record was carried to the new site. It didn't take many projects under the new site to reach page one rank. A few months later, I was No. 1 when searching freelancers with the name of the technology stack I had chosen. (Outside the platform I did a bunch of completely different projects.)
Many sites continuously improve their search functions.
Search the available jobs for understanding the market trends and try to find your own profile with the keywords you included in it.
There is no point in being a No. 1 hit in a search that no client uses, but there is no point in being No. 1000 hit in a search that everyone uses.
Aim to be ranked high on a niche keyword that you can eventually "own."
In what cases do you start freelance work without a contract?
Now that I think about it … I do it with old clients sometimes.
Don't stick with the same profile and keywords all the time. You can quickly re-write parts of your profile on any of the freelance sites just before you send your proposal/application to a potential gig!
This doesn't affect the searchability of your profile very much even if you change some of the keywords, but it changes the perception of the client reading your profile.
A good match is a good match! The match is all that your future client will see. 😉
Just keep versions of your profile description texts (and why not photos too) that you can revert back to after the case has been closed.
I did this extensively during my first months on Upwork… Worked like a charm when I was stuck in those infamous proposal battles.
Not knowing who you are talking to is a big disadvantage in online freelancing.
Sometimes your freelance site shows the name of the client or the name of the company.
Put that on google and do some research! See what the person does for a living and/or what the company produces.
Every now and then the platform I use most lists some interesting AR or VR jobs posted by new users who do not yet know how to invite freelancers through the system. Those jobs I still apply for. Usually, I land very interesting gigs with an exceptionally high success rate compared to the infamous proposal battles many others complain about.
Why?
Because I know what they do and guess what they are probably after with the job post. Sometimes I even guess their long-term aims too. It is easy to come up with a proposal that tops their list.
A junior lancer once told me he is very good at writing proposals. "It only takes 5 minutes each!" He did not seem to be winning the proposal battles very often. :-S
Regardless of your mode of freelancing, online or IRL, you don't need to wait until the end of the project to get your client committed to pay you.
You can always ask for advance payment or some other type of guarantee.
Many freelance sites offer escrow or some other payment protection method to cover freelancers from clients who take the results without paying anything.
Usually, they work like this:
Once the project is discussed and the price agreed, the client deposits a portion or all of the money on the freelance site's account called escrow.
When the project is concluded, results handed over and accepted by the client, the amount in the escrow is released to the freelancer.
This covers you against clients who claim they can pay but do not actually have the money ("yet," as they might say).
(If freelancing IRL, you can ask for an advance fee to be paid to get your work started. The amount should be proportional to the financial risk you perceive. 50% is rather standard for experienced freelancers, newbies might have to settle for less at first.)
Know when you need a contract and always educate your clients about the legalities.
If working online through some of the freelance sites, the contracts are usually covered by the site. Still, you need to know what the deal is in legal terms. Tell that to your clients who (in my experience) rarely know about them.
Clients who have ended up in a dispute before might know how to deal with unclear situations. Others are usually clueless, especially new users of a site.
On the other hand, when the customer relationship is strong, small things like minor upgrades to previous results can be without any legal cover.
The scope of legal coverage should correlate with the size of the business transaction, of course.
Have a contract with new clients every time.
Freelancing is much about what you can do proactively to make your clients succeed. One of them is definitely educating your clients about the legalities in a way that builds, not reduces, trust.
Learn how time zones work. It is a simple thing to do, but it can make a good impression in the era of the global gig economy.
It takes just one minute to convert your time to your client's time with for instance Google Calendar.
No hassle with scheduling, no missed calls, no missed opportunities.
Always think ahead of what times might suit your client. Office hours work well in case of small businesses whereas individuals doing their side projects might be more available in their evening times only.
Save your client's time by offering the most suitable time slots for introductory calls. Some might even give up on you if a suitable time is not found after a couple of messages.
Schedule your calls with the whole globe in mind as part of your work process and you can always give the impression of being 100% pro. 😉
Knowing how to read job descriptions is an essential skill for any freelancer doing business in the global gig economy.
One might think that all clients post everything they need in the job description, but that is not the case very often.
To get your online profile noticed and your proposal actually read by the client, you have to get your first two sentences right.
You can look for clues that help you craft your approach to an interesting proposal:
Is the client likely to have the same skill set as you? Can you use your domain-specific slang or should you write your proposal using common terms?
Is the client doing something he/she cannot do, or simply seeking a cheaper way to get the job done?
What business is the client doing and what is the most likely business goal related to the job post?
All these factors are somewhat easy to guess and apply to make the value of your proposal understandable to the client which gets a good dialog started.
If you're not a freshman coming straight from school, you have most likely done something before turning freelancer that is relevant to your clients.
Your expertise is what you sell.
Sometimes it might not be easy to see it yourself. In that case, ask others for their opinions.
When I started freelancing in my mid-thirties, it was not difficult to advertise the skill sets I had acquired by then, even without any actual advertising or marketing skills.
Depending on the prospective client, I could "weight paint" my CV and project proposals to emphasize the parts that the client was likely to value.
If my client needs engineering excellence, I mention my zero-bug software deliveries.
If my client is hoping to own patents, it is my history of intellectual property generation that I have to mention.
In some cases, even scientific expertise is seen as an asset (and sometimes it is the last part to mention).
Highlight your background in the context of your client and your rate of landing good gigs is sure to shoot up.
Before you sign up on any of the freelance sites as a freelancer, you can improve your chances of getting your profile noticed and proposals look right by signing up as a client first. 😉
It is important to know how your profile appears as a part of the search results, and what words and images are shown in which type of view that the client sees.
Sign up as a client and run a test project or two. It can be something as simple as a virtual assistant service to help you with some small things for 50 bucks, for instance.
If you can invest more, you can of course go and hire your potential competitor for a small-scale assignment.
The knowledge you gain by being a client is totally worth the money!
When creating your online portfolio, be sure to include a sentence explaining the impact of your work on your previous client's business.
It is not enough to simply dump the end result for your potential clients to see. It's better to lay out the whole story and what good came out of your work.
Every time I have to demonstrate my Kinect application making a positive impact on business, I'm sure to mention our shopping mall installation in Japan that was up and running non-stop for 35 days and issued 7345 discount coupons for its users, thus, making real money to circulate around the shops nearby.
This simple presentation trick is easy to learn and apply. Just keep it in mind every time you present your freelance work online or offline.
"Ok, I get it, but now what?"
If you master these hacks, you might want to take a look at the other 20 hacks in articles 9 Freelancing Hacks for Starting Freelancers if you're at the beginning of your freelance journey, and 11 Empirically-Proven Freelancing Hacks for Online Freelancers if you're already deep in the global markets.